Consumer Cellular Customer Reviews
Is Consumer Cellular any good?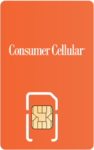 Read 31 Consumer Cellular reviews
VERY POOR CUSTOMER SERVICE
WE WERE WITH CONSUMER CELLULAR FOR 3 YEARS. WE LEFT MINNESOTA FOR KEY WEST ON MARCH 4TH. WE HAD SERVICE MARCH 4TH AND 5TH. ON MARCH 6TH ON OUR DRIVE TO KEY WEST WE HAD NO SERVICE THE REST OF 2 WEEKS OF VACATION. WHEN I ARRIVED AT KEY WEST I TRIED TO CONTACT CONSUMER CELLULAR. I WAITED OVER 45 MINUTES ON HOLD. TRIED CHATTING AND WAS NUMBER 68TH IN LINE THERE. COULD NOT REACH THEM THE ENTIRE MONTH OF MARCH. ON MARCH 29TH WENT TO TARGET IN ROCHESTER MN AND TALKED TO THE CONSUMER CELLULAR REP THERE. HE WAS IN TOUCH WITH CONSUMER CELLULAR AND TRIED DIFFERENT THINGS INCLUDING PUTTING IN NEW SIM CARDS. NOTHING WORKED. WENT TO T-MOBILE ON APRIL 1ST AND THEY INSTALLED NEW SIM CARDS AND EVERYTHING WORKED IMMEDIATELY. NEVER EVER WILL I USE CONSUMER CELLULAR AGAIN
Consumer Cellular, Inc. You Will Pay for Their
My experience with them has been unfortunate. I ported my two mobile phone numbers to another carrier because of poor coverage, thereby cancelling my service with them. But Consumer Cellular continued to bill me for one of the two lines that was cancelled, because of a computer error. I called their customer disservice line (you cannot write to them; there is no published customer service email or address) and waited a very long time to be told that they would not correct that billing. They would continue to charge me for service that they knew was not provided.
This is how I learned Consumer Cellular is not trustworthy and that their customer service personnel are poorly trained and unhelpful. I will not call them again. Fool me twice…
Note, this was not an end-of-service proration issue. This was my being charged incorrectly for the last month (and again for the next month) of service on a line that was disconnected. And they were aware of that fact and intentionally refused to correct it at that time.
Well, I did not pay that bill. And you wouldn't either. So, Consumer Cellular charged me a late fee.
A month later, the incorrect changes were mysteriously corrected and within 30-days of that correction, I paid them what I owed them which was the correct prorated charges for the last month of service.
But I did not pay the late charge (you wouldn't either). Now every month I get an invoice with a late charge for not paying the previous month's late charge, which was bogus to begin with. Is that even legal? These compounding late charges are beginning to add up. I expect there is no way to stop this extorsion other than to pay it.
They cheat me; they will cheat you.
Poor customer service
You'll be on the phone an hour to do anything. And when you get someone they aren't knowledgeable and put you on hold again for a technician. Their reps aren't technically well equipped working from home. Headset and bandwidth issues make communication a challenge even when a rep answer the line. The service is inexpensive…that's the only advantage
Terrible coverage and customer service
When we began service with Consumer Cellular they assured us that we would have good coverage in our area. At first, we were able to make calls from a few rooms in our home, but as the weeks passed, we had fewer and fewer bars, and were unable to make or receive any calls from our home or property. After three months of diminishing coverage, we decided to switch carriers. When we called to port our numbers over, the customer service representative took our final payment and cancelled the service. I actually made sure she reiterated it was our final payment. A month later, Consumer Cellular is telling us we owe them double the amount we paid for our supposed "final payment". They misinform people about their coverage areas; the coverage is terrible. Their customer service is very slow; you must wait on hold for hours to speak with a customer service agent, or wait two days for a call back. If we had had an emergency and had to call 911, we would have been unable. Their service is not as promised.
Prices and plans are great, HOWEVER
The prices are great and their approach is excellent. However, if you ever have a questions or a problem, plan on spending over half an hour on hold before they answer their phone.
I'm Absolutely thrilled with this company
I've been with them for years I had us cellular they sold out to sprint leaving me with expensive ATT and NO customer service or so far away they barely knew English every time I've called consumer cellular the representative was in the USA, knowledgeable, friendly and fixed everything right away! Sadly I have to get rid of my 3G & upgrade & they're cool with me not buying from there selection and as long as they stay in the USA and I get a person I'll stay with Consumer Cellular! You don't have to wait on the phone either you can get a call back!
Customer service reprehensible!
Cellular aimed for seniors, but honestly, it can work for anybody. (their motto but service is reprehensible)
We have been loyal consumer cellular customers for many years. We used both their ALLY monitoring product for my 90-year-old parent and phone service. Recently, however, their communication and customer service are the worst and hugely unacceptable.
This past summer my father fell in his bedroom. He tried to call me but I did not hear him from the kitchen. When I finally came to his room, I was able to get him up and we quickly contacted Ally through his unit to find out why they did not contact me. They commented that it could be the network and that we probably needed a new updated unit. I asked if they could please let customer service know and I would follow up. I did not hear back at all and I finally called in October about the updated unit to find out they no longer serviced the product but continued to charge me monthly for the service that they had stopped offering. I was aghast at this and surprised that the onus was on me to tell them when it was not working and they would only credit from the time I called in October. They gave me the credit of $27 to then on the next billing cycle to charge me again prorated from the beginning of the billing period to the day I called. The net was zero refund. They refused to give a refund for the months in the summer time that I was charged for a non-working or a period not serviced as they said that the onus was on me to let them know it was not working. The communication via the ALLY unit did not count.
– YET THIS IS A PRODUCT THEY NO LONGER SERVICE BUT CHARGE UNTIL YOU NOTIFY IT NOT WORKING AND YOU ONLY KNOW IT IS NOT WORKING WHEN YOU HAVE A FALL AND YOUR LOVED ONE DOES NOT GET HELP –
What most surprised me is their lack of empathy and lack of compassion for the possibility that their lack of communication could have put someone's life in jeopardy as they allowed these poor elderly persons to continue to rely on their safety on a product that was no longer being serviced by Consumer Cellular. If their motto "Cellular aimed for seniors", how can they disregard the safety of this vulnerable group? They never expressed any concern about his well being after falling. They were only concerned about their bottom line… actually robbery!
Rude customer service.
Rude customer service. Inaccurate instructions for porting your phone number. Expect to spend hours making calls to customer service.
Ever since I switched to CC Playstore will not wor
So I can't download apps. Also internet closes on its own.
The worst ever customer service
I bought a total of 3 phones from Consumer cell. The first flip phone did not work nor the second. I upgraded to a smart phone and got NO service in my area even though they guranteed service. Now they have me in COLLECTIONS even though I never used it. They are charging me time while they billed an expired credit card. DISHONEST!
By Rob Webber - Last updated on
MoneySavingPro independently researches the products & services to bring you our recommendations. We may earn money when you click our links - disclosure policy.
---
About Consumer Cellular
| | |
| --- | --- |
| Founded | 1995 |
| Headquarters | 12447 SW 69th Avenue, Portland, OR 97223 |
| Employees | |
| Customer service | (888) 345-5509 |