Lycamobile Customer Reviews
Is Lycamobile any good?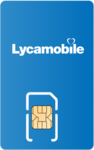 Read 21 Lycamobile reviews
No greed with Lyca
An A+ service focused on customers rather than cash. Representatives stay on call until everything is fixed. This is what makes me stay loyal to a company.
Cheap for traveling but everything else sucks
Poor connectivity with terrible customer service to match. It's cheap for traveling outside the US or if you live in a city but you have to be right in the middle of the city. The moment you step outside the city you lose all call quality. Internet speeds are extremely slow or just don't work. Customer service isn't even available 24/7. Save yourself the pain of dealing with Lyca Mobile and choose a different service.
Support queue
Very helpful in solved my problems. The queue can take a little while but once you connect with a support specialist you'll get the best help you can get.
Thanks LycaMobile
Absolutely worth it. Can go almost anywhere without worrying about a high phone bill.
Great plan with Intl calling.value for money
Seamless experience with good price.
Good for international travel
Lycamobile is really good if you plan on internationally travel. It operates in countries like Germany, China, and Australia. It's much more affordable than paying potentially hundreds in roaming charges.
I have never seen any company go downhill so quick
The first 2 months of service worked flawlessly. It was great service at a great price. I even recommended them to friends and family.
(Which they never gave me a promised credit for)
But now the services cuts out frequently and the speed, (when it does work) is horrendous.
Worse still, their service never worked for those I recommended it to. The company says it is because of a glitch in their system and have had my sister call back every 48 hours for over a week now!
I would strongly advice everyone to avoid lycamobile!
Awful customer support
Customer support is absolutely awful. I was trying to contact a rep about a free phone that came along with the 6-month plan, but they hung up on me.
Great experience
Very satisfied with Lycamobile; I've owned two phones with the service and I've had no issues. Customer service is super friendly and prompt.
Excellent customer service
Customer service is excellent but wait times are long. I had to wait a good 40 minutes before I was connected with a representative.
Listing 11 - 20 of 21 User Reviews