Optimum Mobile Customer Reviews
Is Optimum Mobile any good?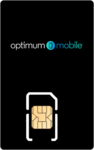 Customer Reviews
1.7
98 Optimum Mobile reviews
Read 98 Optimum Mobile reviews
the worst plan in the world
Awful everything. DO NOT USE
The worst company ever!
Liars liars!!! First of all I was mislead about the service by a representative, 1 hour after getting the service, I tried to cancel it which took me to a stressful 3 month dealing with the company. The refund amount supposed to be everything they charge from day 1 till cancelation of the account, at the end I received only the third part of the amount. They charge fees which they Did't supposed to do and Promised all money back. I called few times a week, every representative were telling me different things. I rate "O" this company. They need to retrain their agents so everyone know exactly how to deal with situations like that
Works well…..but customer service??
I signed up when it was Altice and they were just getting started for $20 unlimited plan. At first, it was very difficult getting the phone to work. Customer service was non-existent. Once it worked….the phone would often switch to AT&T which was painfully slow. It was so bad, I considered going back to Verizon. I stayed with it and it gradually has improved to the point that I am satisfied. I get good coverage and speeds are fast enough to stream videos for $20 for life. If they would improve customer service….I'd give them 5 stars. For $20……I can't gripe much.
Horrible reception.
Not only the reception is horrible. They told me of im not happy with the service they will refund me in full. They have no done that.
Not only They have not refunded me, they are still sending me emails saying im passed due on my payments, even though I called for cancel my plan numerous times.
It was awful
I was transferred by Suddenlink Cable to Optimum Mobile because I was told if I signed up for a new phone that I also received a discount on my cable bill that turned into my worst nightmare ever after that. I can not take long enough to tell you the whole story after that so I will just say DO NOT TRUST anything these people tell you they will lie in anyway they can to sell this sorry mobile service and Suddenlink Cable did not do anything about it after they transferred me to them. At that time they claimed they were not the same. (After they transferred me to them) I am working on new cable and have canceled my service with the lying company. My rep was named Travis and he worked out of the Lubbock office and NO ONE WOULD HELP ME. Please do not trust anything this company or Suddenlink has to tell you. SCAM
Service is horrible.
No service more than service
Reps don't care if they lose clients for Optimum
Initial reps gave me wrong information about refund policy; one didn't mention it at all. When trying to obtain refund after not accepting Sim cards from Fedex;(as instructed by rep.) the Optimum moblie retention people refused to refund my activation fee. I could not change my first mobile providers as planned. Reps were rude, illogical and didn't care that I couldn't join their plan; they just continued harping on a sale. Optimum should be ashamed of themselves for hiring inconsiderate and ill prepared personnel. Optimum should worry they will lose more customers on their main service. "Dwayne Baker" rep., was obnoxious and rude. Where is client satisfaction and retaining considerations honored here? Optimum big business bull not interested in their clients at all.
Don't switch
About 60% of the time i don't get coverage i am a landscaper i don't get messages or phone calls.
I live in the 11930 and surrounding areas , one of the worst decisions I've made.
Not worth the $20 a month per line
Coverage at my home sucks, dropped or unintelligible calls. Customer service useless. Only thing they would do is note my feedback on our account. Mind you we have been triple play customers for over 20 years & pay over $250/month. Spend the extra money for service you can rely on.
Buyer beware.
Received a phone that froze up when I inserted sim card. Given a reference # to go to a specific store so there would be no charge. was told phone had to go back to samsung. Received a confirmation # to return phone Was told everyone must pay a restocking fee of $64.11 regardless of why phone was returned. Customer service is horrible. Round and round on a phone tree, finally get a person? you are sent back to phone tree.
Days and hours on the phone. Wish I had read the reviews before going to optimum mobile.