Best Red Pocket internet plans in November
Looking for a low-cost plan for internet access? Red Pocket has a range of cheap data-only plans to choose from.
As an MVNO, Red Pocket is powered by the same major US networks, so you'll receive nationwide coverage but with an affordable price tag.
To eliminate the worry of no WiFi connection, internet plans are ideal if you travel frequently and require internet access.
Keep reading below for more information on Red Pocket and their low-cost internet plans.
Red Pocket internet data plans
Red Pocket features
Red Pocket internet speed & coverage
Red Pocket is powered by Verizon, AT&T, and T-Mobile's 4G LTE & 5G networks.
Network coverage ratings
Sources: RootMetrics, OpenSignal, and Ookla.
---
Red Pocket unlimited data plan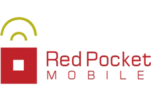 Unlimitedmins
Unlimitedtexts
Powered by: AT&T, Verizon & T-Mobile
Compare AT&T unlimited data plans
| Plan | Data | Monthly Price | Annual Cost |
| --- | --- | --- | --- |
| AT&T Unlimited Extra | Unlimited | $75 | $900 |
| AT&T Unlimited Elite | Unlimited | $85 | $1,020 |
AT&T vs Red Pocket Plan Comparison
Keep your AT&T phone, number & coverage: Save $300 per year
Carrier
Network

Coverage

4G/5G

Data
Price

Annual

Cost
AT&T
AT&T 4G & 5G
Unltd*
$75/mo
$900/yr
Red Pocket
AT&T 4G & 5G
50GB
$50/mo
$600/yr
*Don't waste money on unlimited data - Avg. data usage is only 3-5GB
Savings
$25/mo
$300/yr
---
Red Pocket customer service
Red Pocket prepaid data plans
---
Red Pocket internet plans FAQs
Does Red Pocket have internet?
Yes, Red Pocket operates on the Verizon, AT&T, and T-Mobile networks, so you'll have access to their coverage for internet and data speeds.
Does Red Pocket have fast internet?
Running on the AT&T, T-Mobile, and Verizon networks, you'll get the same quality coverage but the internet speeds will depend on your area. You can check the best coverage in your area using our ZIP code checker.
---
Recap
MVNOs can save you up to 0 a year with their low-cost plans, and offer the same nationwide coverage by operating on the major US networks.
If you're a frequent traveler and need internet access away from home, data-only plans are a great option and Red Pocket offers plans at half the price compared to a plan directly from one of the big three.
Could you save more money choosing a set data allowance? Unlimited rarely means unlimited and once you reach your data cap your speeds will be slowed. You can estimate your average data use with our free tool and save money by choosing a plan with a set data amount.
Mint Mobile Info
| | |
| --- | --- |
| Founded | 2016 |
| Headquarters | 1550 Scenic Avenue Suite 100 Costa Mesa, CA 92626-1420 |
| Employees | 150-200 |
| Customer Service | (800) 683-7392 |