Straight Talk Customer Reviews
Is Straight Talk any good?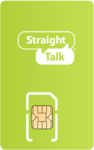 Customer Reviews
3.3
6 Straight Talk reviews
Read 6 Straight Talk reviews
Good coverage and rates
I've had it since 2015. I'm very happy with the coverage and plans.
The single gives me a circle with a line through
Service blanks out on me circle with a line through it says no network connection. Every month they reduce the service. When I'm paying the same price as I did in the beginning. The customer service is absolutely useless. I'll spend hours and several representatives and still no help. Idk how to get help 611611 is just a limited robot. Customer service doesn't understand what I am saying. I regret this company. 7hrs on the phone time after time and no help plus bad service.
everything
ATROCIOUS customer support. Takes forever to get a person on the phone and many do not speak English well enough to talk, are usually impolite (probably a product of bad English) after which hang up on you.
Best service out there
i have been using them for over 3 years now, and their coverage, service, and rate is better than every other company available. They use all of the other providers for service, so that you get all the best wrapped up in a single and low rate.
Service is good
The service you get is quite superb. For $45 you get unlimited talk and text, and a couple of.five GB of data (may be different at the time this is being read). i have used this carrier for many months, and have almost in no way had a problem. I find that as long as it works, it's a great carrier. It sucks when it does not work and you have to call their horrible customer support department.
cheap prices
reasonably-priced...no contracts....it is what it is!!!!
Listing 1 - 6 of 6 User Reviews
---
About Straight Talk
| | |
| --- | --- |
| Founded | 1996 |
| Headquarters | 9700 NW 112th Ave, Miami, FL 33178 |
| Employees | 11-50 |
| Customer service | (877) 430-2355 |