By

- Last updated on April 10th, 2023

MoneySavingPro independently researches the products & services to bring you our recommendations. We may earn money when you click our links - disclosure policy.

If you're looking for the best mobile hotspot plan, Tello offers great value for money.

MVNOs operate on major wireless networks, so you don't have to give up good coverage for affordability. This is why Mobile Virtual Network Operators are quickly becoming the most popular way to save money on cell phone bills.

Find out more about Tello below and compare their mobile hotspot plans that can save you up to $600 a year.
Does Tello have hotspot plans?
Tello data prepaid internet
Tello unlimited data hotspot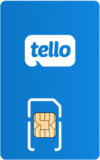 Tello unlimited data plan
T-Mobile wireless network coverage
Tello hotspot plans & prices
| Carrier | Network | Data | Price |
| --- | --- | --- | --- |
| | T-Mobile | 1GB | $6/mo |
| | T-Mobile | 2GB | $10/mo |
| | T-Mobile | 5GB | $15/mo |
| | T-Mobile | 10GB | $20/mo |
| | T-Mobile | Unltd | $29/mo |
---
Tello data speed
Tello is powered by T-Mobile's 5G and 4G LTE networks.
Tello network coverage comparison
| NETWORK | ROOTMETRICS | OPENSIGNAL | OOKLA |
| --- | --- | --- | --- |
| Verizon network | 95 | 9.8 | 74% |
| AT&T network | 93 | 9.5 | 80% |
| T-Mobile network | 87 | 88 | 79% |
Sources: RootMetrics, OpenSignal, and Ookla.
When it comes to 5G network coverage, T-Mobile scores the highest, according to the J.D. Power 2023 wireless network study.
---
What are the benefits of Tello data only plans?
Quality coverage: Powered by the T-Mobile network, you can expect the same nationwide coverage. To see if T-Mobile's network is the best coverage in your area, you can check the Tello coverage map.

Value for money: Tello offers value and simplicity with their plans. Although you'll find the same features and coverage as a plan direct from T-Mobile, Tello could save you up to $600 a year.

No contracts: As a prepaid carrier, you won't have to sign any long-term contracts. So if you're unhappy with your plan, no restrictions keep you locked in.

Easy set up: Being online-based, it's quick to choose and purchase your Tello SIM starter kit. Once your SIM card's arrived, it's easy to set up, and you'll be up and running with a few simple steps.

4G LTE coverage: You'll receive their 4G LTE data speeds operating on the T-Mobile network.

5G high-speed data: If you have a 5G smart mobile device, you can access the fast 5G network (where it's available) at no extra cost with Tello 5G plans.

Customer service: Find out what current Tello customers are saying with Tello customer reviews.
For more details, check out our Tello review.
---
How do Tello hotspot plans compare?
| Carrier | Network | Data | Price |
| --- | --- | --- | --- |
| | Verizon & T-Mobile | 2GB | $10/mo |
| | AT&T & T-Mobile | 5GB | $15/mo |
| | T-Mobile | 15GB | $20/mo |
| | T-Mobile | 20GB | $25/mo |
| | AT&T & T-Mobile | Unltd | $25/mo |
What features are included with Tello?
---
How to bring your own device to Tello
Tello will simply provide you with a prepaid SIM card. You pop it into your device and follow the provider's instructions. You need an unlocked device (your carrier has released it on another network). You can check that your device is compatible with Tello before signing up; the rest is a breeze.
It's never been easier to switch. Let's break it down.
Customize your plan. Choose a plan with Tello that suits your needs.

Prepare to make the switch. Ensure your old bills are paid, and your device is unlocked. If you're getting a new device through Tello, transferring data from one to another is simple.

Set up your new plan. Once you're sure your new plan is up and running, cancel your old account. If you've got a new device with your Tello plan, it should be ready to use when it arrives. If you're bringing your own device, you'll need to follow the instructions with the new SIM card kit that Tello will send you in the post.
---
Tello hotspot FAQs
Does Tello have a hotspot?
Yes, Tello offers hotspot data plans starting at $10 per month.
How fast is Tello hotspot?
Tello hotspot has 5G data speeds where available, and then you'll get 4G LTE.
---
Recap: Are Tello hotspot plans worth it?
Hotspot plans are ideal if you need access to the internet when you're away from home. These data-only plans provide peace of mind when there's no Wi-Fi connection available.
With MVNOs like Tello, you'll find plenty of cheap mobile hotspot plans to choose from that could save you hundreds of dollars a year.
Tello info
| | |
| --- | --- |
| Founded | 2002 |
| Headquarters | 4780 Ashford Dunwoody Rd, Suite A 236 Atlanta, GA, 30338 United States |
| Employees | 51-200 |
| Customer service | (866) 377-0294 |