Tello Customer Reviews
Is Tello Mobile any good?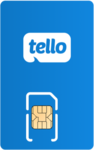 Read 89 Tello reviews
Would recommend
Friend recommended me tello and I'm glad they did. Plans are cheap,and they're good
Budget friendly with a great value
A great service. Very low pricing. Good calls.
Tello is forcing me to buy a new phone.
I have Sprint CDMA and Tello no longer supports it so they are forcing me to buy a new phone. I ordered one and they sent me the wrong one. It has been a nightmare (2+ hours chatting, emailing, etc) working out getting their phone returned. The CS rep dropped the chat without sending a label. Now am waiting for an email response. In CS hell because of their mistake. Was a h
Low prices
And that's not a bad thing. I'm able to have a burner phone for my business because of Tello. The calls and texts come in just fine too. Really satisfied with Tello and its plans.
A pleasant change of pace
I really mean it when I say I love Tello. These guys are so different compared to Verizon. The reps are very friendly and they're always helpful. There are no hidden costs either. No strings attached. I would recommend Tello to anyone and everyone.
Low fees for high quality
Really like Tello. Cheap with friendly customer service and high quality calling.
No help any more,
Just had to buy new phone to upgrade. it won't activate even with another new sim card. No response to any questions anymore. No working phone- nothing.
Easy on the wallet
Very inexpensive and good coverage. Recommended.
Tello has great prices and it's very nice to use
Used for 6 months
And so far I like the service. Customer service has been exceptional!
---
Tello Q&As
What is Tello?
Tello is an MVNO (Mobile Virtual Network Operator). As a low-cost carrier, they offer prepaid cell phone plans that operate on the same major US networks, while helping to save money.
What network does Tello use?
Tello is powered by the T-Mobile network.
Does Tello have good coverage?
Operating on the T-Mobile network, Tello provides coverage in areas where T-Mobile is available.
Does Tello have 5G?
Yes, Tello does offer 5G at no extra cost, if you have a compatible 5G device.
How good is Tello?
Tello offers budget-friendly plans with mix and match options.
Where can I buy Tello SIM card?
You'll find Tello SIM cards online. Choose your plan from the comfort of your own home.
What phones are compatible with Tello?
Most unlocked GSM phones are compatible with Tello.
Is Tello GSM or CDMA?
Tello works on the GSM network.
How much is Tello?
Plans can start from as little as $10 a month, ranging up to around $40 a month for unlimited.
Is Tello worth it?
If the T-Mobile network is available in your area and you're looking to save money on your cell phone bill, Tello's plans could be worth checking out. With the chance to save up to $600 a year without compromising quality.
---
About Tello
| | |
| --- | --- |
| Founded | 2002 |
| Headquarters | 4780 Ashford Dunwoody Rd, Suite A 236 Atlanta, GA, 30338 United States |
| Employees | 51-200 |
| Customer service | (866) 377-0294 |