Tracfone Wireless Customer Reviews
Is Tracfone Wireless any good?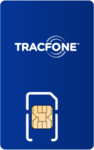 Read 63 Tracfone Wireless reviews
Great as long as you don't have any problems..
For 12 years this company was great. I purchased an Android phone 3 years ago to use at work. Great. A month ago, the phone died. After waiting a month for my phone "upgrade" and multiple phone calls, I cancelled my service. I received the phone today - my upgrade is a refurbished phone with a 90-day warranty. Definitely not the upgrade I was promised. Now I have to figure out how to get this phone back to them when no one at tracfone has been able to get into my account for 3 weeks. The CS reps are pleasant. The whole CS setup they have to work with stinks.
absolutely the worst of any company!!!
No service 90% of the time, no customer service any 100% of the time. Terrible company.
Worst customer service ever.
I was trying to port my land line number to Tracfone. It took almost 2 months before someone there had a brain and knew how to get it added. They kept telling me Spectrum never ported it but it was ported before I finally cancelled the request. I tried to get the number back to Spectrum but it needed to be activate first with Tracfone. The executive resolution dept is a joke. They don't return your call and after speaking to a rude person I asked to speak with Freda. After holding 10 minutes or more i was disconnected. All they had to say is check with Spectrum.I checked with Spectrum many times but got the same answers that Tracfone had it and need to activate it first. I even told Tracfone to look in their New Star system. From my understanding Tracfone ported the number to Verizon and had to get it back from them. Why was it not returned to Spectrum. Finally on 08/09/22 Ray got it working. I wish I had the names of the other people that was working to port it from Verizon. I was a customer with Tracfone for many years and purchased a few different phones and never had issued.The company would be fine if you never have to deal with their Customer Service. They don't speak english. And plan on being transferred sever times and hold for minimum of 1 hour each time. I spent over 100 hours trying to get my number back. They need to have a new Executive Resolution person. Maybe Ray. At least he didn't just tell me to check with Spectrum. He checked it out.
Worst customer service ever! Go elsewhere!
Had an issue with a new sim card they sent to move to Verizon and it messed up the phone. 6 hrs later and not even a supervisor knew how to fix. They transfer you all around and with each new rep you have to spend 10 minutes validating your account.
Network Upgrade Excludes BYOP
I have been a Tracfone user for decades. I recently bought a Samsung S22+ and transferred my Tracfone service to it and it worked fine. A few weeks ago my service was cut off. Tracfone customer service informed my phone's IMEI was no longer included in their eligible phone list as part of their network upgrade. Some upgrade, eh. BYOP (Bring Your Own Phone works one day and not the next. I'll find another carrier. I'm done with Tracfone. I could not be more disappointed in this company. Do yourself a favor, and avoid becoming a Tracfone customer.
Just... Don't do it.
It's cheap for a reason. I've never experienced worse customer service in my life. It is nearly impossible to get anything resolved. Been using Tracfone for a few years now. It was fine when no issues came up. But when I need a problem solved or something refunded, forget about it. Not worth the hours and hours on the phone, stressing over getting your phone working, and endless repetitive customer service agents transferring you to a "higher department" to help you. I ran out of data a few months ago, and purchased 1gb of data just to tide me over until my plan refilled in a couple weeks. After purchasing, my phone still didn't have data. So I foolishly bought another 1gb, nope, that didn't go through either. When I went into my account, I saw my "current plan" with no data, but then I clicked a tab to "show more", and I see another plan pop up. What the hell, why do I have two plans? This one was labelled "other plan", and specified the benefits from the other plan would rollover once the service ended for my current plan. Well, it's been a few months, and that hasn't happened. Fast forward to now, I had to reload my data, and thought, "maybe that was just a one time issue", so I bought 1gb of data. Nope. Here I am, yet again, with no data, and it's all just slowly collecting in this other plan which now has 3gbs, that I have absolutely no access to. I've talked with customer service I don't know how long, but I swear to god none of them know what colour the sky is. It is like playing a game of red rover with a brick wall. You just cannot get through to them. At least I haven't. I have such a simple request. I need data, I have the data, just move it or refund me. It should not be this difficult. The amount of energy I've given to this sesame street company is depressing. I'm changing my service. I hope for everyone's sake that this company gets run into the ground. If you are a current customer and haven't had any issues like this yet, you will.
Don't waste your time with Tracfone!
Bought a flip phone and pre-paid plan. No account was setup. They sent me a phone. Activated it. Their incompetent service reps couldn't set up an account for me. I'm out $50. and say good riddance to Tracfone.
Customer service sucks
Understanding the customer service representatives accents at times can be very very frustrating. They have been helpful but understanding them is hard for me.
Have had great service since 2010!
The folks at TracFone has done a great job since 2010, when I'd buy a new device, they'd transfer all of my minutes & texts over w/out issue.
Now that I have a smartphone, this includes data. Due to different phones, have had AT&T on some, Verizon on others, both has great reception in this area.
Customer service is severely lacking
Let me start off by saying my husband and I have had two cell phones and their accompanying service plans for over 15 years, We had no complaints; in fact, we recommended TracFones to our friends and they are now customers.The problems started when we wanted to discontinue their service and go with another cell phone provider. (We wanted something with unlimited minutes because we were getting rid of our landline.) We had an annual AutoPay service plan on one of the phones. It was up for renewal in a few days and we didn't want the yearly plan. We wanted a monthly service plan to use until we had time to set up arrangements with another company. My husband was on the phone for 70 minutes (I'm not kidding) talking to several customer service reps and supervisors. They said they would take care of it, We should not have been charged for the yearly plan since we cancelled the AutoPay before the new start date. I looked at our credit card statement and there were two transactions--one for the cost of a year service plan and another for a month plan. Then there were at least two more calls trying to get our money back. The end result--we are out $135 even though we were told a ticket was submitted and we would receive a refund. We had submitted a dispute with the credit card company. They have now said the settlement is final and the customer is responsible for the charge. To add insult to injury, I turned my cell phone on one day and it said my phone was not in service and I had to buy a new phone. No advance email, phone call or text! To end this story, there were numerous hours fighting this dispute and we are still out $135 for services we didn't receive. Due to the lack of customer service, I believe TracFone will lose a lot of customers in the future. Terrible way tp treat two customers of over 15 years each. We will never recommend them to anyone and will warn friends that already do business with them.
---
About Tracfone
| | |
| --- | --- |
| Founded | 1996 |
| Headquarters | 9700 NW 112th Ave, Miami, FL 33178 |
| Employees | 501-1,000 |
| Customer service | (800) 867-7183 |