Twigby Customer Reviews
Is Twigby any good?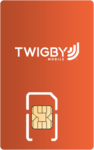 Read 57 Twigby reviews
Flexibility
Love the low prices and flexibility. I don't use data or texts so I stick with an unlimited minutes package. Customer support is fast and quick to help.
Customization, great phone service
Twigby works great for my iPhone 6! Everything is as they said and I love the customization of my plans!
Network
Customer service is awful. I tried to cancel one of my lines since my son got his own phone plan but even contacting customer representantives was a struggle.
Low prices
Was skeptical because of all the bad reviews but so far twigby has been a good service. We swapped from verizon and we've saved a bunch of money. They're the only lowcost service that works in my rural area. Very happy with twigby.
Terrible reception
I can't get service with Twigby even though my phone was compatible with them.
Sells faulty phones
I bought a phone from Twigby but it was a lemon. I tried to return the phone but they refused to honor the 30-day warranty. Look for a more honest carrier!
Quick shipping, strong signals
Phone and SIM card came super quick. Works great. Perfect for my day to day.
Good coverage
Do not go with Twigby because their customer service is absolutely unhelpful, rude, and argumentative. I have since dropped Twigby.
Cheap
I'm so happy to find Twigby! It's so much cheaper compared to Verizon!
Great coverage and prices
Been with them for 2 years and I'm still happy with the service.