Twigby Customer Reviews
Is Twigby any good?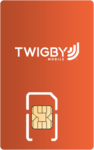 Read 57 Twigby reviews
Ease
Twigby is a great service for my mom! Easy to set up and use and really affordable!
Ease of Use
I wish I had found Twigby earlier. Being able to create a plan that fits just right for me is such a game changer. Now I don't feel confused by my phone bill every month!
Value
I love Twigby for its value. The fact you can get the same service for less than half the price big carriers charge is incredible.
Customer Service
I'm blown away by the friendliness of customer service. It was nice that they took the time to answer all my questions and help me really understand my plan.
affordable with great coverage
Was leary to switch to online company. so glad I read their reviews.
Customer Service
The customer support has been nothing short of amazing. Thanks Twigby!
Value
This is a great carrier for my daughter's first cell phone. We can keep in touch without paying a lot for data