If you're like most people, you're probably interested to know how to save money on your cellphone bill.
It seems like the charges creep ever upward, making you wonder why you practically have to empty your wallet each month just to use your smartphone.
It doesn't have to be that way – you can (and should!) save money on your mobile service. Mint Mobile is one of a growing number of alternative carriers called MVNOs (Mobile Virtual Network Operators).
MVNOs use the big carriers' towers, but because they don't have the overhead or advertising costs of the major providers they can offer better rates.
How Mint Mobile Works
Mint Mobile is a bit different from most MVNOs.
It's exclusively BYOP (bring your own phone) and you pay for multiple months at a time rather than month to month.
The trade-off is that you reap a bucket of savings on your monthly service.
Mint Mobile Features
Hot Spot: Just like with the big guys, you can use your data via tethering or mobile hot spot (Mint calls it SMHS - Smartphone Mobile HotSpot).

Money Back Guarantee: Maybe you're not sure about trying out a cellular provider that you're not familiar with. Mint Mobile is unique in that they offer a 7-day money back guarantee on all of their three-month plans. If you decide Mint service isn't right for you, you'll get a refund.

International Roaming: Make and take calls for .25 cents/minute when traveling out of the country (.06 cents when you're in Canada or Mexico). Outbound texts are charge at .05 cents per SMS (.02 cents in Canada and Mexico). Inbound SMS are free. Mint also offers discounted rates to call other countries from the U.S.

Wi-Fi Calling and Text: This feature allows you to hook up to a Wi-Fi network to talk and text during times when you're in an area with spotty coverage. You will need a phone with Wi-Fi calling capability to take advantage of this service.
How Much Does Mint Mobile Cost?
There are three Mint Mobile plans to choose from: 2GB, 5GB, or 10GB of data per month. All three plans come with unlimited talk and text, and unlimited 2G data after your high-speed is used up.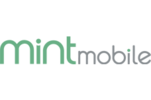 Unlimited
mins
Unlimited
texts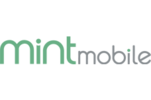 Unlimited
mins
Unlimited
texts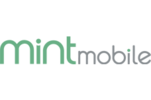 Unlimited
mins
Unlimited
texts
2GB of data per month costs $15, 5GB is $20 per month, and 10GB costs just $25 per month. There are three ways to pay: three months, six months, or one year at a time. The cost per month is the same regardless of how many months you pay for at one time.
You can save even more money with this MVNO by taking advantage of their specials. For example, at the time of this writing Mint is offering three months free when you purchase three months of service.
That means you'd pay just $75 for six months of service with 10GB of high-speed data each month.
Mint Mobile Phone Options
To use Mint, you need a device that works on the GSM network. You then swap your SIM card out for a Mint one. Your phone must:
Work on the GSM network (these include phones from T-Mobile, AT&T, Cricket Wireless, MetroPCS, Straight Talk, or Simple Mobile)

Be unlocked

Accommodate a SIM card (standard, micro, or nano)
It's worth noting that if you want 4G LTE service to work, your phone must have the ability to connect using the AWS bands (1700/2100 MHz) and Band 12 (700 MHz), in addition to the standard 4G bands (1900/850 MHz).
You can, of course, port your existing phone number if you wish.
The Bottom Line
If you don't mind bringing your own device and paying for a few months at a time, and you're looking for budget-friendly mobile service with solid reliability, Mint Mobile could be just the carrier you're looking for.