Best Unlimited Hotspot Plans
Compare mobile hotspot plans with unlimited data
Nationwide Coverage
4G LTE Data Speed
Keep Your Device & Number
No Contract
Powered by:

Deal of the Month: Reach Mobile 3GB for $15/mo* -
See Deal
It's never been easier to switch your carrier & save
Save up to $600 a year
Powered by: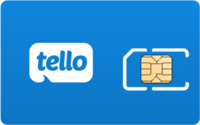 24/7 customer support
No contracts
Budget friendly family plans
This Tello plan includes 0 minutes, 0 texts and unlimited of 4G LTE data for $39 per month.
Tello is powered by the nationwide T-Mobile & Sprint 4G LTE Network. Tello offers mobile hotspots plans with no contract, fees or credit check. Choose a customized plan based on your usage and upgrade or downgrade anytime.
Tello allows you to turn your phone into a hotspot with free tethering. You can bring your own phone to Tello and keep your phone number. Tello is compatible with most GSM & CDMA unlocked phones. Check Phone Compatibility
Tello includes international calling, VoLTE and Wi-Fi Calling. Tello plans automatically renew every 30 days with monthly billing and can be canceled at any time. Tello offers 24/7 customer service.
We currently have no deals for that combination, please change the filters
Disclaimer: MoneySavingPro is a free price comparison service but we do not provide service directly. We do our best to keep all the information up to date but there may be some discrepancies between the price you pay.