Product description
The Apple iPhone 12 has 64GB storage capacity. It includes a 6.1" screen and 12MP camera.
Apple iPhone 12 64GB - Back Market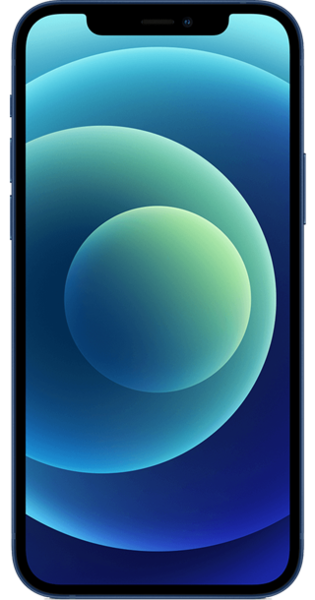 Storage

64GB
Network

Unlocked
Condition

Refurbished
Price

$350
AT&T Apple iPhone 12 features
| | |
| --- | --- |
| Storage | 64GB, 128GB, 256GB |
| Screen size | 6.1" |
| Display | Super Retina XDR |
| Resolution | 2532 x 1170 pixels |
| HDR screen | Yes |
| Battery life (video playback) | 17 hours |
| Processor | A14 Bionic Chip |
| RAM | 4GB |
| 5G | Yes |
| Cameras | Dual |
| Rear camera | 12MP |
| Camera type | 12MP |
| Front camera | 12MP |
| Video resolution | 4K, FHD, HD |
| | |
| --- | --- |
| Size | 5.78 x 2.81 x 0.29in |
| Weight | 5.78oz |
| Optical zoom | 2x zoom |
| Night mode | Yes |
| OS | iOS 14 |
| Screen protection | Ceramic Shield |
| Water resistant | IP68 |
| Wireless charging | Yes |
| eSIM | Yes |
| Secure Autdentication | Face ID |
| VoLTE | Yes |
| WiFi calling | Yes |
| GPS | Yes |
| Warranty | 1 year |
| UPC | 400060096744 |
AT&T Apple iPhone 12 reviews
Why did I believe the reviews?
The iPhone 12 is nothing but headache-inducing nuisance. I purchased this phone after reading lots of positive reviews but it's been trouble since the beginning. It doesn't always connect, it's very fragile (I've broken the back in less than a week of having it).
Did Apple downgrade?
Overall the phone feels a bit cheaper compared to my iPhone XR. It's decent, but the features doesn't make up for the decrease in design quality. Camera's great, sure, but I don't really even use it to justify this. Feels like a waste of money.
Great battery life
The phone lasts all day until bedtime. Very durable too.
Fantastic features makes this phone a delight!
I've been pleased with this phone since day 1. The battery life lasts much longer, navigating the phone is easy, and it feels light in the hand. A phone labored with love.
Could've used improvements
Feels good in the hand, but doesn't excuse the fact that there's only been a marginal difference between this phone and the iPhone 11.
An amazing product!
Apple always seems to knock it out of the park every year! The iPhone 11 was a monstrous improvement over the iPhone X to the point I thought it couldn't get any better, but I was proven wrong! Wowed by the performance upgrade!
Disappointed in lack of home button
OLED is very sleek. Outstanding quality, compact, at a very good value too. Only complaint I have is that I miss having a homescreen button (my older phone was an iPhone 7).
The grad gift to get!
I've picked up this model as my daughter's grad gift. She's so happy with it.
Love the media qualtiy
I've switched from the iPhone 7 to the iPhone 12 so I could take more professional-looking photos and videos, and I've yet to be disappointed. The camera quality is crisp and the there are so many photo settings I don't think I'll be able to use them all.
A great phone that does not disappoint!
While it's on the pricier end for me, the phone is absolutely worth the cost. I'm really glad that Apple has put out a new wave of colors. I'm really loving the purple one I've purchased.
Cheapest AT&T Apple prices
AT&T Apple iPhone 12 FAQs
How much does an AT&T Apple iPhone 12 cost?
The AT&T Apple iPhone 12 prices start at $350. The prices vary by condition and memory size. Buying refurbished or used is a great way to save money. Always compare prices to ensure you get the best AT&T Apple iPhone 12 deal.
Will the Apple iPhone 12 prices drop?
The Apple iPhone 12 prices drop over time. The best time to buy an Apple iPhone 12 is always after newer models are released. Find the cheapest AT&T Apple iPhone 12 price by comparing deals online.