iPhone 8 deals in January 2021
Considering an upgrade? The iPhone 8 features the A11 Bionic chip, compatibility with Qi wireless chargers, a glass rear panel, and improved camera features, all packed into the classic iPhone design.
All of that internal power is topped off with True Tone display technology, an eye-protecting feature first introduced in the iPad Pro.
There's plenty to love, except for the price tag. No worries, though - we'll show you how to get the cheapest iPhone 8 prices along with the secret to saving up to half on your cell phone plan!
Table of Contents
Compare Apple iPhone 8 Prices
---
Unlocked iPhone 8 Deals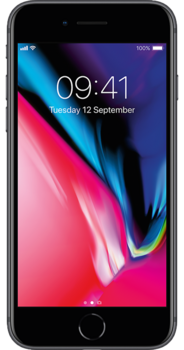 See Deal
Powered by:
---
Sprint iPhone 8 Deals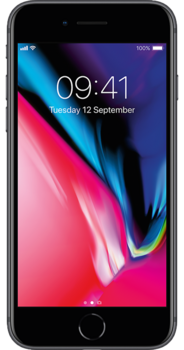 See Deal
Powered by:
---
Buy Refurbished to Get the Best iPhone 8 Price
The used and refurbished phone market allows you to get that premium device you want without the sticker shock.
Benefits of buying a refurbished cell phone:
Save money: Pay an average of half the retail price for your Apple iPhone.
Get more bang for your buck: Most improvements to new models are minor. Get the features you need at a much better price by purchasing a slightly older model.
Own your iPhone and your freedom: Device payments and lease agreements work just like a contract. When you own your phone you're free to switch carriers when you find a better deal.
Key Considerations When Buying a Refurbished iPhone 8
Here's what you should keep in mind as you shop:
Warranty: Refurbished phones often come with a warranty for your peace of mind. Coverage may last 30 days or more, depending upon the company you buy from.
Return period: It's important to understand the seller's return policy in case there's an issue or you change your mind.
Device compatibility: You want to buy an unlocked cell phone (this ensures it's free of its previous carrier and activation ready). You should also check your carrier's website to make sure it's compatible with your network.
Timing: The best time to buy a new phone is when a new model is released. Everyone's eager to sell their device in order to buy their upgrade.
Payment options: The best thing to do is pay in full. Some sellers offer device payment plans, just be sure you know what interest rate you'll be charged.
How to Save Even More Money
Here are more ways to save on your cell phone costs.
Sell Your Old Phone for Cash
Don't let your old iPhone lay around taking up space. Sell your phone online and make more than you'll get in trade-in credit.
Switch to a Low-Cost Carrier
Mobile Virtual Network Operators (MVNOs) are the key to saving on your wireless service. These smaller carriers save you money because they don't have the high overhead costs of the big four carriers, yet they use the same equipment so you get the same service.
Benefits of MVNOs:
Nationwide service on the same 4G LTE networks the major carriers use.
Bring your own phone and keep your number.
Typical savings of 50% on your cell phone plan.
No contracts or hidden fees.
Custom plans to fit your needs.
We've made it easy to find an MVNO on your favorite network:
Recap
Stop spending too much on your wireless expenses:
Looking for the larger iPhones with bigger OLED displays? Find great deals on the iPhone 8 Plus and the iPhone X!
COMPARE NOW: Cheap iPhone 8 Prices