By

- Last updated on January 22nd, 2023

MoneySavingPro independently researches the products & services to bring you our recommendations. We may earn money when you click our links - disclosure policy.

Fancy getting the best AT&T flip phone while saving up to $600 a year, per line?

At a time when all your household costs are increasing, your cell phone bill doesn't need to be one of them. At MoneySavingPro we can help you find the flip phone you want, on your favorite network, at a much lower cost.

If you've not heard of AT&T MVNOs, you're not alone. They're low-cost carriers that operate on the AT&T network, offering the same 5G & 4G LTE wireless coverage but with plans starting as low as $10 a month.

Buying a flip phone directly from AT&T may look like a good deal initially but after factoring in the cost of AT&T's over-priced unlimited data plans over 3 years, you could end up paying as much as $2,000 more than you need to!

We've compiled a list of the latest flip phones from low-cost AT&T carriers, so you can find the best phone deal at the cheapest price without sacrificing your wireless service.
Cheapest AT&T flip phones
Best AT&T Motorola flip phone
Motorola RAZR
* $50 Off with 12 Month Plan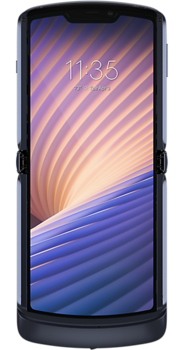 Retailer

Mint Mobile
Storage

256GB
Network

T-Mobile
Condition

NEW
Price

$42

/mo*
The Motorola RAZR has 256GB storage capacity. It includes a 6.2 inches, 2.7 inches screen and 48 MP camera. This new RAZR is available from Mint Mobile with T-Mobile network coverage and prices starting from $42/mo.
Best Deals
| Device | 256GB |
| --- | --- |
| Motorola RAZR Unlocked | $42/mo |
Best AT&T Samsung flip phone
---
Cheapest AT&T flip phone prices
AT&T flip phones benefits
Whether you're a new or existing customer, you'll find the best AT&T phone deals with an AT&T MVNO.
These low-cost carriers offer AT&T upgrade deals that can save you hundreds of dollars a year on your cell phone bill.
There's no flashy marketing to tie you into a lengthy three-year contract. Find AT&T compatible phones with plenty of benefits.
Save money: Get the cheapest AT&T phones with an MVNO. You could save up to $600 a year, per line.

Latest cell phones: Find all the latest cell phones with low-cost carriers and cut the cost of your cell phone bill by pairing with one of the best AT&T plans.

No long-term commitment: With AT&T prepaid phones, you're not locked to one network, so switching carriers if your needs change is simple, with no additional fees.

Cheap monthly payments: If you opt to pay for your flip phone monthly, most low-cost carriers offer an interest-free payment plan.

Affordable upgrades: If you want to upgrade your phone there's plenty to choose from with AT&T MVNOs. You can also trade your old phone for one of the latest flip phones with AT&T trade in deals.

Unlimited data plan: You'll still find the same deals when it comes to unlimited data with the best AT&T cell phones, however unlimited never really means unlimited, so be sure to check the small print.

5G phone: If you want access to the fast 5G network, there is a range of AT&T 5G phones you can choose from.

Android phones: You can find the AT&T Samsung deals like the Galaxy Z Flip or Motorola Razr.

Phones for seniors: Finding the AT&T flip phones, there are plenty of options available.

Phones for kids: If your kid is ready for their first phone, you'll find a great selection of AT&T family plans.

No contracts: If you're looking for no commitment, there's a variety of AT&T pay as you go phones to choose from so you only pay for what you use.
---
Cheap AT&T flip phone plans
| Carrier | Network | Data | Price |
| --- | --- | --- | --- |
| | AT&T | 1GB | $8/mo |
| | AT&T | 2GB | $10/mo |
| | AT&T | 5GB | $15/mo |
| | AT&T | Unltd | $25/mo |
| | AT&T | Unltd | $25/mo |
---
AT&T flip phones FAQs
Which flip phones are compatible with AT&T?
AT&T operates on the GSM network, so as long as your flip phone is unlocked and can operate on the GSM network it should be compatible. You can check your phone's compatibility with our IMEI checker.
Does AT&T have a smart flip phone?
AT&T has the Alcatel Smartflip and the Samsung Galaxy Z Flip available on its network.
Does AT&T have a flip phone for seniors?
There's a range of flip phones to choose from, whether you're looking for a basic flip phone like the Alcatel Smartflip or one with the latest technology like the Samsung Galaxy Z Flip.
Does AT&T have a 5G flip phone?
Yes, the Samsung Galaxy Z Flip 5G is available with AT&T.
---
Recap
Whether you're looking for the latest Galaxy Z Flip or just a cheap flip phone, AT&T MVNOs can save you hundreds of dollars a year.
AT&T MVNOs, like Red Pocket Mobile, offer flip phones with cheap plans, often with interest-free payments over 12-24 months.
Although AT&T offers financing over 36 months, being tied into their over-priced unlimited data plans for 3 years could mean wasting as much as $2,000!
Compare deals from low-cost carriers to find the best AT&T flip phones at the cheapest price.