Product description
The Apple iPhone SE has 64GB storage capacity. It includes a 4.7" screen and 12MP camera.
Used Apple iPhone SE prices
Apple iPhone SE 64GB - Back Market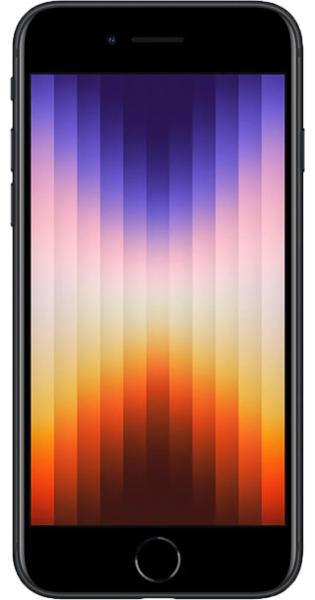 Storage

64GB
Network

Unlocked
Condition

Used
Price

$145
Used Apple iPhone SE features
| | |
| --- | --- |
| Storage | 64GB, 128GB, 256GB |
| Screen size | 4.7" |
| Display | Retina IPS LCD |
| Resolution | 1334 x 750 |
| HDR screen | No |
| Battery life (video playback) | 15 hours |
| Processor | Apple A15 Bionic |
| RAM | 4GB |
| 5G | Yes |
| Cameras | Single |
| Rear camera | 12MP |
| Camera type | 12MP |
| Front camera | 7MP |
| Video resolution | FHD, 4K |
| | |
| --- | --- |
| Size | 138.4 x 67.3 x 7.3mm |
| Weight | 144g |
| Optical zoom | No |
| Night mode | Yes |
| OS | iOS 15 |
| Screen protection | Dustproof, Fingerprint Resistant Oleophobic Coating |
| Water resistant | IP67 |
| Wireless charging | Yes |
| eSIM | Yes |
| Secure Autdentication | Front-mounted fingerprint reader |
| VoLTE | Yes |
| WiFi calling | Yes |
| GPS | Yes |
| Warranty | 1 year |
| UPC | 400063412855 |
Used Apple iPhone SE reviews
Best iPhone SE yet
I'm happy with how easy it is to use. Doesn't have a lot of the features the bigger models get but that doesn't it doesn't have any. Recommended!
Wonderful!
Got the phone at a good price. Haven't gotten any issues. I recommended this to a couple of my friends.
Size = best!
I bought this locked on Amazon at a pretty good deal! I love the size most of all (these phones have gotten SOOOOOO big) but it's really fast and I can stream Netflix shows on it.
Pocket-sized Powerhouse!
It's a great upgrade from gen 2. It has a bigger battery and it's much faster which makes a huge difference. Outside the price being a major influence in my decision to buy another SE, the size really helps. I absolutely love the form factor.
iPhone
Not a big improvement from SE 2020 but it's still really nice. It's faster and it's still really easy to use. If it ain't broke don't fix it.
Useful for everyday life.
Unless your'e looking for blow-your-mind specs, the SE does everything. The A15 processor is fast, the battery is improved over the 2nd gen. Best of all, it's just right in size.
Ok, nothing impressive
Owned this for one month and its been good. But resolution could be better. Its not colorful enough and it looks too pixelated.
On a budget?
This is the phone to get! It's small but it's mighty powerful. The speakers are surprisingly loud and you can't complain about the speed. It's a great phone for anyone, especially those dipping their toes into the Apple ecosystem.
iPhone fan
Been team Apple for years and this year is no different thanks to the new iPhone se. It's the perfect size, it's very simple to use, and the chip makes it run like butter. Lasts a long time too.
A fun pocket-sized phone
I love the SE! It has every feature I want. It also has a nice, sharp display. The sound is super clear and the battery lasts a long time.
Cheapest used Apple prices
Apple iPhone SE FAQs
How much does an Apple iPhone SE cost?
The Apple iPhone SE prices start at $145. The prices vary by condition and memory size. Buying refurbished or used is a great way to save money. Always compare prices to ensure you get the best Apple iPhone SE deal.
Will the Apple iPhone SE prices drop?
The Apple iPhone SE prices drop over time. The best time to buy an Apple iPhone SE is always after newer models are released. Find the cheapest Apple iPhone SE price by comparing deals online.