Product description
The Samsung Galaxy S20+ has 128GB storage capacity. It includes a 6.7" screen and 64MP camera.
Used Samsung Galaxy S20+ prices
Samsung Galaxy S20+ 128GB - Back Market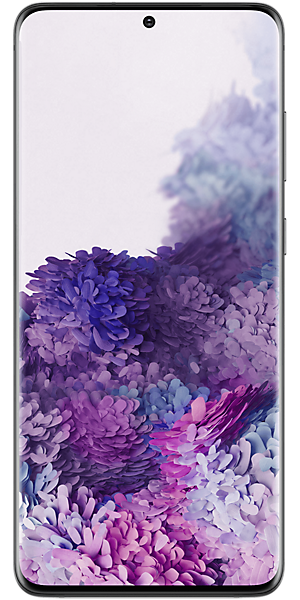 Storage

128GB
Network

Unlocked
Condition

Used
Price

$222MSRP:

$1,199
Used Samsung Galaxy S20+ features
| | |
| --- | --- |
| Storage | 128GB, 256GB, 512GB |
| Screen size | 6.7" |
| Display | QHD+ Dynamic AMOLED 2X |
| Resolution | 3200 x 1440 pixels |
| HDR screen | Yes |
| Battery life (video playback) | 11 hours |
| Processor | Snapdragon 865 |
| RAM | 8GB, 12GB |
| 5G | Yes |
| Cameras | Quad |
| Rear camera | 64MP |
| Camera type | 64MP |
| Front camera | 10MP |
| Video resolution | 4K, FHD, HD |
| | |
| --- | --- |
| Size | 6.37 x 2.9 x 0.31in |
| Weight | 6.56oz |
| Optical zoom | hybrid 3x zoom |
| Night mode | Yes |
| OS | Android 10.0 |
| Screen protection | Protective Film |
| Water resistant | IP68 |
| Wireless charging | Yes |
| eSIM | Yes |
| Secure Autdentication | Fingerprint Sensor, Face Recognition |
| VoLTE | Yes |
| WiFi calling | Yes |
| GPS | Yes |
| Warranty | 1 year |
| UPC | 610214663351 |
| User Manual | Samsung Galaxy S20+ User Manual |
Used Samsung Galaxy S20+ reviews
Battery drain is real
This is ideally the best phone you can get. The 120hz screen is nice, display is solid, and the phone is fast. Wouldn't use 120hz all the time since it drains the battery faster. My only complaint is that it's a bigger phone which doesn't fit all that well in my hand.
Great phone but too pricey
My Galaxy S9 finally kicked the bucket so I opted for the S20+. The 20+ is almost too big to handle but other than that it's a really good phone. Wait for sales if you can.
Not worth it
Is the S20+ a bit overpriced? Yea since you can get a gaming laptop for the same price. Is it worth it then? No not at all.
120hz refresh rate, snappy response
I needed a phone quickly for working from home during the lockdown and I managed to pick this up. Needless to say, I've been impressed. The 120hz refresh rate is amazing to look at, the actions are snappy, and the photos it takes are eye popping. While it's a pain on the wallet, it's definitely a phone to have!
Fast and fantastic display
The phone is excellent - fast with a great screen - but the USB port doesn't seem to work all that well. Sometimes my phone doesn't charge and sometimes it just cuts off in the middle of charging. Please fix this Samsung!
Easy to use; fantastic hardware quality
Easy to operate. Colors are gorgeous. Design is sleek and attractive. The phone fits perfectly in my hand. Overall an excellent phone.
Cheapest used Samsung prices
Samsung Galaxy S20+ FAQs
How much does a Samsung Galaxy S20+ cost?
The Samsung Galaxy S20+ prices start at $222. The prices vary by condition and memory size. Buying refurbished or used is a great way to save money. Always compare prices to ensure you get the best Samsung Galaxy S20+ deal.
Will the Samsung Galaxy S20+ prices drop?
The Samsung Galaxy S20+ prices drop over time. The best time to buy a Samsung Galaxy S20+ is always after newer models are released. Find the cheapest Samsung Galaxy S20+ price by comparing deals online.