MoneySavingPro independently researches the products & services to bring you our recommendations. We may earn money when you click our links - disclosure policy.
This is something we can both agree on - a slow Internet connection sucks!
We use the Internet a lot. A whole lot, CNN reports. In 2016, the average American devoted more than 10 hours a day to screen time (computers and phones), and that number is sure to increase in the future. And think for a second: how much time is spent waiting for a page to load or a file to download?
Whether you're an online shopper, a gamer, a YouTube producer, an entrepreneur, or just browsing the web, a slow Internet connection can only lead to a bad time.
In this article, I'm going to discuss what causes a slow Internet connection, urge you to take an Internet speed test, and then explain what is a good download and upload speed.
What are Good Download and Upload Speeds?
Why is my Download Speed Slow?
If you notice a lag when trying to download or upload content, there could be a wide variety of factors that influence performance. Below is a look at some of them:
1. Internet Service
The type of internet service you have can play a huge role in how fast you can access content. To illustrate, if you use dial-up internet service, you won't receive the same internet download speed as you would with a broadband internet connection.
Additionally, if you want faster speeds in general, you should try to get fiber optic internet, as it delivers the best reliability thanks to the fiber optic cable. Moreover, if Google Fiber Internet isn't available in your area, you can still opt for fast speeds through a broadband connection. Check with your broadband service provider to find the fastest plan offered.
2. Internet Traffic
The amount of traffic online influences how fast you can access content. If the network experience has many users at one time or people demanding larger content files by way of online gaming or live streaming, you could experience network latency.
In some instances, your internet service provider might throttle your speed during peak hours or times of congestion in order to handle the strain. This is typical for most cable Internet providers, and peak hours tend to happen around dinner time and into the evening.
3. Distance From Server
The further your device is from the server, the longer time it takes to transfer files. In reality, files won't take that much longer to download if your computer is far from your router, WiFi port, or WiFi extender.
4. Your Device
If your device is low on memory or it contains harmful files from malware or spyware, you will notice a drop in how fast you can access content.
How to Check Internet Speed
There are many online resources that allow you to conduct a speed test on your internet connection. Here are some resources as well as how to use them:
1. Bandwidth Place
Bandwidth Place is a simple way to test your internet connection speeds. You do this by: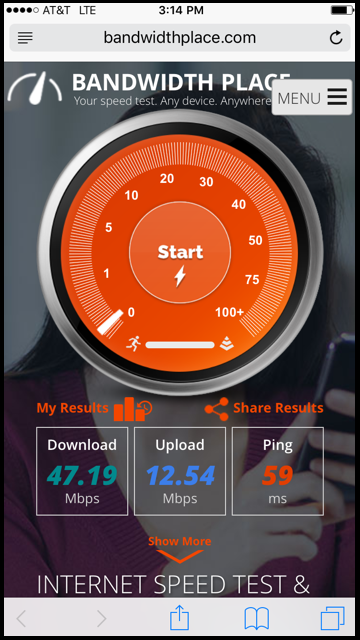 2. Speedtest.net
Speedtest.net by Ookla is a great way to measure your upload and download speeds, whether you are at home or on the go. If you are using a mobile device, you can test your connection by: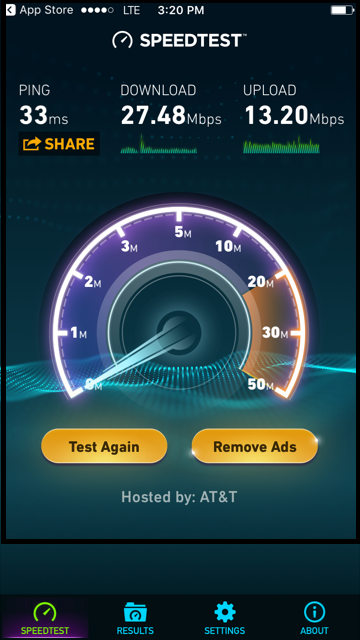 An added benefit of this app is it will save your test results. This allows you to establish a pattern of connection speeds over time. If they are well below what your internet service provider is charging you, then you should contact them.
3. DSLReports
Whether you use a mobile device or are connecting your computer by way of an Ethernet cable and cable modem, you can use DSLReports to conduct a speed test. To do this, you'll want to: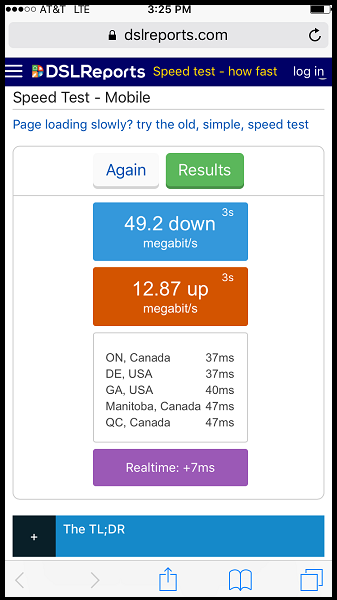 Related: More info on Internet speed tests.
What is a Good Download Speed?
Simply put, your device's download speed is how fast it takes for you to access data requested from a website. Whether you do online gaming, listen to music, or need to access files for research, the time it takes to transfer these files to your device is your download speed.
According to CordCutter, the average download speed in the United States is about 34Mbps. For mobile phone users, it is reported that they experience an average download speed of about 20Mbps.
Download speed can be affected for a number of reasons, so don't be alarmed if your download speed is severely below the average. If it is, you might want to upgrade to a new plan or provider. Remember that download speed can be hindered by the distance to the server and router, your Internet provider and package, and when you go online.
And if your download speed is way above average, good for you!
What is a Good Upload Speed?
Conversely, if you want to send files to other users, apply pictures to your social media profiles, or post a video to a website, you want a fast upload speed. Your device's upload speed is how fast the transfer takes from your device to the website you want to upload the content to.
What you'll notice when conducting a speed test is that many internet service providers offer faster download speeds than upload. To illustrate, while it isn't uncommon to receive download connection speeds of 50 Mbps or more, upload speeds are only a fraction of that.
The reason there's such a difference between download and upload speed concerns user preferences. Since the majority of users spend more time downloading items, high-speed internet providers provide faster download speeds to accommodate this need.
Recap
To make sure you are receiving a good deal on your internet service, it's important to check what its upload and download speeds are. You can use a speed test to determine how fast your download and upload speeds are, your latency, ping, IP address, and more.
Overall, testing your download and upload speeds is good for several reasons. One, they can help you identify problems in connection speeds with the ISP, which you can bring to their attention, and two, they can demonstrate problems on your end. If you have slow connection speeds, it could be due to a number of issues, such as network congestion, malware, and more.
Having a reliable internet connection is important, as you want to receive your money's worth for service. To this end, be sure to use our guide on the best Internet providers.
Internet Provider Guides