By

- Last updated on April 9th, 2023

MoneySavingPro independently researches the products & services to bring you our recommendations. We may earn money when you click our links - disclosure policy.
Pros
Unlimited data plan available

Competitive rates

Unlimited talk and text

International calling available

Mobile hotspot capability

Widely available in stores

7-day customer care
Cons
No basic plans

No international roaming
Kroger Wireless is an MVNO cell phone plan provider formerly known as i-wireless and rebranded in 2019.
MVNOs rent bandwidth on the three major wireless networks and sell it to you at lower rates. Kroger Wireless runs on T-Mobile 5G & 4G wireless networks.
Kroger has kept things fresh and simple with this relaunch of its prepaid no-contract cell phone plan offerings. The prices are good, and they provide a range of data plans. If you're in the market for a T-Mobile phone plan that won't cost you an arm and a leg.
Keep reading to find out everything you need to know to decide whether Kroger Wireless is right for you.
Is Kroger Wireless cell phone service any good?
Phone plans from $15/mo
Deal of the Month: Mint Mobile
What is Kroger Wireless?
Kroger Wireless is a low-cost carrier offering prepaid cell phone plans that can save you money without compromising quality. Also known as an MVNO (Mobile Virtual Network Operator), they operate on the same major networks.
What are the benefits of Kroger Wireless?
If you fancy a premium, inexpensive wireless service, Kroger Wireless can offer just that.
MVNOs offer the best cell phone plans with a range of affordable options for any budget. Typically, plans can start from around $15 a month, depending on what you need from your cell phone plan.
We've listed a range of Kroger Wireless's features and benefits to help you decide if Kroger Wireless is the best service for you.
Quality coverage: Powered by the T-Mobile network, you can expect the same nationwide coverage. You can use the Kroger Wireless coverage map to see if they have the best coverage in your area.

Value for money: Kroger Wireless offers great value and simplicity with its unlimited data plan. You'll find the same coverage as a plan direct from T-Mobile, while Kroger Wireless could save you $600 a year.

No contracts: As a prepaid carrier, you won't have to sign a 24 or 36 months contract. So if you're unhappy with your plan, no restrictions keep you locked into their contract.

Phone and plan bundles: If you're interested in upgrading your cell phone, you can find a range of the best Kroger Wireless phones to choose from. Just like a phone and plan bundle from one of the major networks, but with affordable options.

Bring your own phone: If you don't want to upgrade, you can easily bring your phone to Kroger Wireless. You'll just need to check your cell phone is fully compatible.

Easy set up: Being online-based, choosing and purchasing your Kroger Wireless SIM starter kit is quick. Once your SIM card's arrived, it's easy to set up, and you'll be up and running with a few simple steps.

Unlimited talk & text: Most MVNOs provide unlimited talk and text with their plans.

4G LTE coverage: You'll receive their 4G LTE data speeds operating on the T-Mobile network.

5G high-speed data: If you have a 5G eligible device, you can access the fast 5G network (where it's available) at no extra cost with Kroger Wireless 5G plans.

Unlimited data: The Kroger Wireless unlimited data plan offers unlimited everything at less than half the price of a T-Mobile unlimited plan.

Multiple lines: Most prepaid carriers offer a discount for additional lines purchased, making a family plan a great money-saving option when buying more than one line.

Personal hotspot: A data plan like Kroger Wireless hotspot plans are great when you're traveling or away from home. You can use your mobile hotspot data to tether to your laptop so you can continue working without WiFi.

Instant connectivity: With the latest technology, a Kroger Wireless eSIM can instantly connect you to your new plan. When you sign up, you'll receive a QR code that, once scanned, activates your plan, ready to use.

Promo codes: To see current savings, you can compare the latest Kroger Wireless deals.
What are the best Kroger Wireless plans?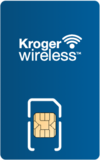 Kroger Wireless 3GB plan
T-Mobile wireless network coverage
Unlimited mins
Unlimited texts
3GB 4G/5G Data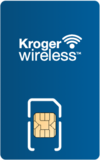 Kroger Wireless 6GB plan
T-Mobile wireless network coverage
Unlimited mins
Unlimited texts
6GB 4G/5G Data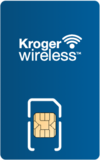 Kroger Wireless 10GB plan
T-Mobile wireless network coverage
Unlimited mins
Unlimited texts
10GB 4G/5G Data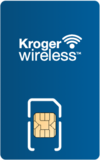 Kroger Wireless unlimited data plan
T-Mobile wireless network coverage
Unlimited mins
Unlimited texts
Unlimited 4G/5G Data
What network does Kroger Wireless use?
Kroger Wireless runs on the T-Mobile 4G & 5G wireless networks.
Does Kroger Wireless have good coverage?
Sources: RootMetrics, OpenSignal, and Ookla.
Does Kroger Wireless have 5G?
Being on the T-Mobile network is a major bonus for Kroger Wireless because they're able to offer super speedy 5G service. The rest of the time, you'll have 4G LTE coverage.
---
How much does Kroger Wireless cost?
| Carrier | Network | Data | Price |
| --- | --- | --- | --- |
| Kroger Wireless | T-Mobile | 3GB | $15/mo |
| Kroger Wireless | T-Mobile | 6GB | $25/mo |
| Kroger Wireless | T-Mobile | 10GB | $35/mo |
| Kroger Wireless | T-Mobile | Unltd | $45/mo |
How does Kroger Wireless compare?
T-Mobile vs Kroger Wireless comparison
Keep your T-Mobile phone, number & coverage: Save $300 per year
Carrier

Network Coverage

4G/5G Data

Price

Annual Cost

T-Mobile

T-Mobile 4G & 5G

Unltd*

$70/mo

$840/yr

Kroger Wireless

T-Mobile 4G & 5G

Unlimited

$45/mo

$540/yr

*Don't waste money on unlimited data - Avg. data usage is only 3-5GB

Savings

$25/mo

$300/yr
Does Kroger Wireless have family plans?
Plan
1 line
2 lines
3 lines
4 lines
Kroger Wireless 3GB
$15
$30

$15/line

$45

$15/line

$60

$15/line

Kroger Wireless 6GB
$25
$50

$25/line

$75

$25/line

$100

$25/line

Kroger Wireless 10GB
$35
$70

$35/line

$105

$35/line

$140

$35/line

Kroger Wireless Unlimited Data
$45
$90

$45/line

$135

$45/line

$180

$45/line
---
What features does Kroger Wireless offer?
---
What phones does Kroger Wireless offer?
Kroger Wireless has a range of cell phones for you to choose from that fit any budget. Choices include the latest iPhones and Android phones, like the Samsung Galaxy series. They also offer device financing.
How to bring your own phone to Kroger Wireless
Switching to Kroger Wireless is super simple. You can do it in three easy steps.
Choose a plan with Kroger Wireless. The more months you buy, the more money you save.

Prepare to make the switch. Make sure old bills are paid, and your phone is unlocked.

Set up your new plan. Keep your current carrier account open until your number has been ported over. Once you're sure your new plan is up and running, cancel your old one. If you've opted for a new device, it should come ready to go.
---
Verdict: Is Kroger Wireless worth it?
There's no doubt that Kroger Wireless is simple and convenient. The plans are straightforward and well priced, and there are data options to fit most people's needs.
This carrier falls a little short in the area of very cheap cell phone plans for people who don't need much - if any - data.
Don't worry, though, we've got you covered - compare cell phone plans to find the exact right fit for you.
How we reviewed Kroger Wireless cell phone service
MoneySavingPro reviewed Kroger Wireless's cell phone service and ranked them based on various factors.
The most important factor we considered was the price of each plan in comparison to other similar plans available in the market. We also evaluated data limits, network coverage, perks, customer feedback, and overall service quality.
We regularly monitor the market to keep track of new products and plan changes offered by carriers. This list is updated at least once a month or more frequently as necessary.
Kroger Wireless info
| | |
| --- | --- |
| Founded | 2005 (as i-wireless) |
| Headquarters | 1 Levee Way Suite 3104. Newport KY 41071 |
| Employees | 11-50 |
| Customer service | (866) 434-7796 |