MoneySavingPro independently researches the products & services to bring you our recommendations. We may earn money when you click our links - disclosure policy.
Whether you are using a smartphone, a tablet, or a hotspot, it is important to know how to check data usage, so that you can keep tabs on how much you use.
We perform all sorts of activities these days that can eat up data very quickly such as video streaming, gaming, listening to music online, and more.
If you fail to check your data usage, you could find yourself going over the allowance, which could prove costly. Fortunately, checking your data usage is a simple process these days.
Checking cellular data usage
Check Verizon Data Usage
If you have a Verizon cell phone plan you will have no problem checking how much data you've used. A simple website tool or mobile app will enable you to check your Verizon data usage with ease.
Another key benefit is that you can change your plan via these methods, too. So, if your Verizon data usage regularly goes over the limit, you can switch to a more suitable plan with ease. In order to check your internet usage, all you need to do is:
To monitor data usage on your desktop, simply go to the Verizon website and click on My Verizon. You can then create an account enabling you to access the account management tool
Set up your account so that you can receive automatic alerts about your Verizon data usage
If you want to monitor your Verizon data usage on your phone or tablet, go to the Verizon website and download the My Verizon Mobile app to your mobile device. The Verizon app can also be downloaded from the app store for your device
Monitor your data usage levels via the desktop service or the Verizon app to avoid exceeding your limit
The My Verizon Mobile App
You can also use My Verizon or the My Verizon Mobile app to manage your account, which means that you can make bill payments as well as change or reset your passwords. The provider also offers tools for business users including VZAccess Manager.
With the VZAccess Manager, you can access a range of business applications from one control panel when you are on the road, which means increased ease and convenience.
You can also check how much data you've used on your phone. On any iOS device, follow these steps:
1. Go to Settings then scroll down to Phone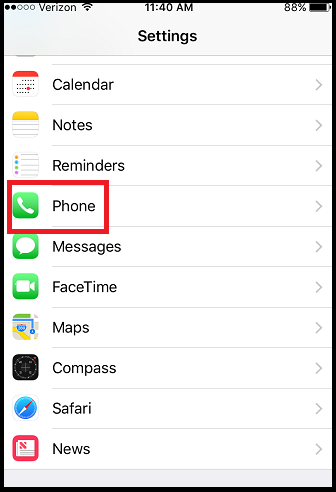 2. Scroll down to 'Verizon Services'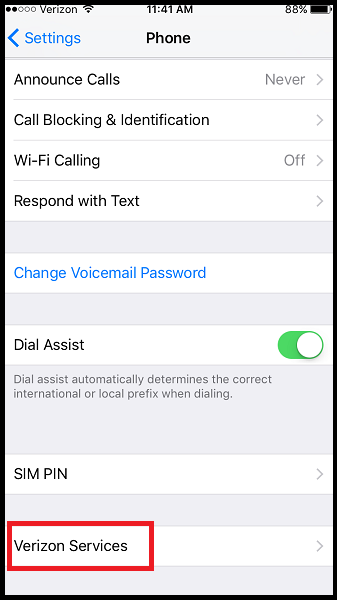 3. Click on 'View My Data' where you'll be directed into a call with an automated service that will check how much data you've used. Simply follow the prompts from there.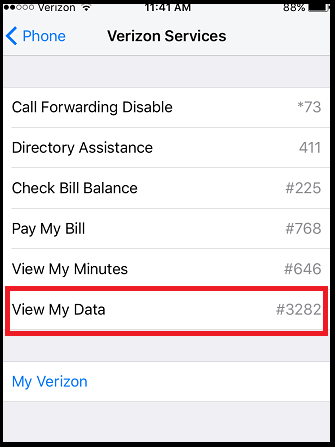 Check AT&T Data Usage
Those who have their mobile internet service, which is included in any of the AT&T's plans, through AT&T will also find it very easy to manage their accounts and monitor their AT&T data usage. You will be able to check on your AT&T data usage quickly and conveniently using the desktop tool on the service provider website or by downloading the app for mobile devices. In order to do this you should:
Go to the AT&T website and click on myAT&T if you want to monitor AT&T data usage on your desktop
Create your account to gain access to account management services
From here you can check your internet usage as well as manage other areas of your AT&T account such as billing and making changes
If you are using a mobile device you can text 'myATT' to 556699 and receive a link to the myAT&T app. Alternatively, you can go to your device's app store and download from there
Use the account management tool or app to keep tabs on your usage
As you can see, the process is very simple and you can easily avoid charges and fees for excess data usage by using these tools.
Check Sprint Data Usage
In order to keep tabs on your Sprint data usage, you can use one of a range of methods depending on the type of device you are using. You can check the Sprint data usage via your desktop as well as your mobile devices such as an Apple or Android device. In order to do this you can:
Go to the Sprint website and click on the My Sprint tab
Create an account, or log in, to gain access to the account management tool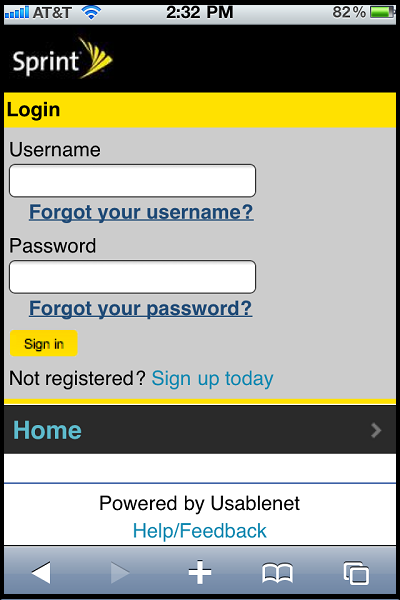 Use this to monitor your data usage and manage your account, including accessing billing cycle, custom offers and making changes to your plan if your current usage needs are not fulfilled
For mobile devices, you can download the Sprint Zone app to your Apple or Android device in order to monitor your data usage. This can be done via the website or your device's app store
You can also request text updates on your data usage to your phone by sending the text message 'usage' to 1311
Sprint makes it quick and simple to keep a close eye on your data usage and to get alerts when you are close to reaching your limit. This means that you can avoid excess bandwidth usage charges and make a more informed decision with regards to whether you need to change your plan.
Check T-Mobile Data Usage
In order to check how much data you've used on a T-Mobile cell phone plan you can:
Go to the T-Mobile website and click on the My T-Mobile tab if you are using a desktop
Create an account, or log in, to enable you to manage your account online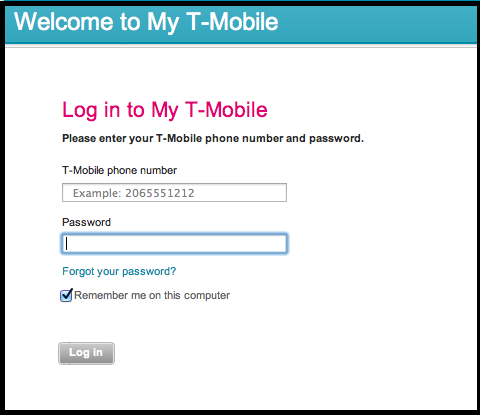 Go to the top of the page and click on 'usage'
You can then view individual data usage or all usage details for your account
Click on data to bring up the information relating to your usage
As a mobile broadband user, if you want to check T-Mobile data usage on a mobile device such as an Android or iPhone mobile you can go to the website and download the T-Mobile app. You can also do this through the app store on your device including Google Play for Androids such as Samsung Galaxy or iTunes for Apple devices.
Once you have downloaded the mobile network app to your mobile device and created your account, you simply navigate to 'check usage' and then 'view details' for the line that you wish to check
You can also use a third party data usage service or usage app to monitor your data usage, such as DataMan
Your T-Mobile account or app will make management of your account far easier. Not only can you check data usage with ease but you can also manage various other areas of your account such as checking your billing cycle or making payments with minimal hassle.
Data Usage Calculator
Choosing the best cell phone plan to suit your needs can be a challenge. If you choose a plan with a low data allowance you will pay less but could end up paying out for excess usage charges during your billing period. On the other hand, choosing a plan that comes with more data than you need could result in high monthly costs that are unnecessary.
This is where our data usage calculator can prove invaluable. We also offer several tips and strategies for determining how much data you need.
Reducing Data Usage
It is well worth learning more about how to reduce data usage, as this can help you to minimize the risk of exceeding your limit if you do not have an unlimited plan. This, in turn, can save you a small fortune in excess usage fees. From music and entertainment to online shopping and using Facetime, data usage can quickly be used up without you even realizing it.
Reducing your current usage is not as difficult as you might think. There are various ways in which you can establish and internet connection while also reducing your data usage levels. It is worth remembering that some activities and apps can use up a lot of data. This includes:
With music streaming apps such as Spotify, data usage can be high
If you stream movies from sites and apps such as Netflix data usage increases
If you enjoy advanced gaming on your PC or mobile device, you will use up a lot of data
Tips to Reduce Data Usage
Download and save offline to your device so that you are not using your data when listening to music or viewing content. Even with sites and apps such as Google Maps data usage occurs but you can dramatically reduce this by saving offline
Use a mobile hotspot, as this will enable you to reduce your data usage. You can find mobile hotspot areas in most locations, so using these in order to get online won't be a problem
Make use of free WiFi as this is a great way to reduce your mobile data usage. Many shops, restaurants, bars, hotels and other public places offer free WiFi. This means that you can connect without having to use up any of your data
Check that your mobile data allowance is connected to just one SIM card if your mobile device has more than one SIM card slot
Keep tabs on your network usage regularly to minimize the risk of an overage charge. You can do this via your network provider's mobile app or with an independent third-party app. You may also be able to use the relevant USSD code. For instance, with AT&T and Verizon, the USSD code to check data usage is 3282# or #3282 respectively
Use an app such as Onavo Extend, as this can help to reduce your mobile data usage. With Onavo Extend, the data you requested is compressed before it comes to you. Although it can reduce your speed, it also helps to keep you within your data limits
Disable certain functions and services on your device. For instance, if you have an iPhone you can disable WiFi assist in order to reduce data usage. You can also turn off iCloud Drive if you use it. iCloud Drive is a useful addition to iOS 9 but can eat up a lot of data if you have a lot of files and use it regularly
Use mobile versions of websites on your device rather than the full website, as this can also help to reduce the amount of data that you are using
Make sure your mobile data is turned off and just switch it on when you need it. This will enable you to ensure that updates, installs, and other activities aren't taking place when you are out and about.
If you find that your network usage is still higher than your allowance, you should consider changing your plan to avoid charges. You can get some great plans from providers such as Credo Mobile. This includes plans with 1GB, 3GB, and 6GB of data. This comes with the added benefit that Credo Mobile uses part of your money to support worthy causes.
For more ways to reduce data usage, we offer additional strategies and tips.
Recap
If you are one of the many people who want to know how to lower your cell phone bill, reducing data usage is a key solution.
Providers have made it easier than ever to keep an eye on the amount of data that is being used both on your home PC and on mobile broadband. This makes managing your usage far more convenient and extremely simple, so you can reduce costs with greater ease.
If you find that you use a lot of data every month and need more, then consider opting for an unlimited data plan to see which one works for you.
Data usage FAQs
Calculate Your Savings How much could you save by switching carrier?