Xfinity Mobile Phone Plans: Starting at $25 per month
What are the cheapest Xfinity Mobile plans?
Xfinity Mobile
Prepaid SIM Card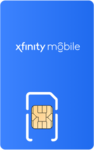 Unltd
4G/5G data
Network: Verizon
* Available to Xfinity Internet Customers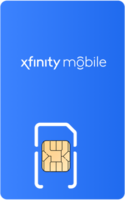 Xfinity Mobile Unlimited phone plan
* Available to Xfinity Internet Customers
Verizon 5G & 4G LTE wireless networks
Unlimited
mins
Unlimited
texts
Xfinity Mobile Unlimited plan includes unlimited mins, unlimited texts and unlimited data for only $45 per month. Xfinity Mobile plans offers wireless coverage on the Verizon 5G and 4G LTE network.
We currently have no deals for that combination, please change the filters
Disclaimer: MoneySavingPro is a free price comparison service but we do not provide service directly. We do our best to keep all the information up to date but there may be some discrepancies between the price you pay.
Xfinity Mobile features
| | |
| --- | --- |
| Network | Verizon |
| Data Speed | 5G & 4G LTE |
| 3G Network | CDMA |
| Bring Your Phone | Yes (Only iPhones) |
| Keep Your Number | |
| Credit Check | |
| Customer Service | 24/7 |
| 5G | |
| | |
| --- | --- |
| Contract | No - prepaid |
| Taxes/fees included | |
| VoLTE | |
| WiFi Calling | |
| Visual Voicemail | |
| Multi-line Discounts | |
| Multi-month Discounts | |
| International Roaming | |
Xfinity Mobile customer reviews
Customer service is a joke!
I spent over 4 hours on the phone in 4 seperate calls just to get one phone moved over from Tmobile. Unbelievable amount of confusion. Got it working after the third or fourth call, then, two days later it stopped working. Another hour on the phone. Then they offered me a $15 savings for my troubles. Stay away!
Terrible customer service. Shut off my phone!
I needed assistance and got indistigishable speaking lady. Ask for manager and she shut my phone off.
All because I wanted to change my bill date.
Rob C came to my home right away and fixed my phones. He was super nice, and professional.. he explained everything to me so l could understand it. He was the best!
Xfinity Mobile company information
| | |
| --- | --- |
| Founded | 2017 |
| Headquarters | One Comcast Center, Philadelphia, PA 19103 |
| Employees | 10,001 |
| Customer service | (888) 936-4968 |