The best AT&T talk & text plans in 2023
We compared the best unlimited talk & text plans on the AT&T 5G & 4G LTE networks: Save up to $600/yr
99% coverage
4G & 5G speed
Bring your phone
No contracts
We currently have no deals for that combination, please change the filters
Disclaimer: MoneySavingPro is a free price comparison service but we do not provide service directly. We do our best to keep all the information up to date but there may be some discrepancies between the price you pay.
Nationwide Coverage
Powered by the major networks
Bring your own phone
Keep your existing phone and number
5G & 4G data speeds
Same fast speeds as the big guys
No contracts
Flexible and commitment-free
Customize your plan
Only pay for what you use
Buy online
No need to visit a store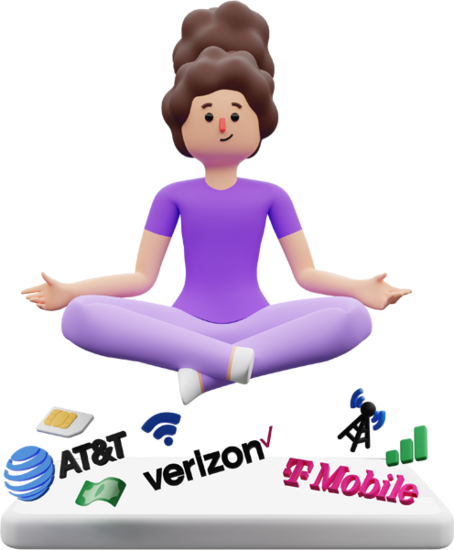 Stop the Unlimited Data Plan Rip Off!
Carrier
Network
Data
Price
Annual
AT&T
AT&T 4G & 5G
Unlimited*
$75/mo
$900/yr
Boost Mobile
AT&T 4G & 5G
Unlimited
$25/mo
$287.50/yr
Savings
$50/mo
Savings $612.50/yr
MoneySavingPro independently researches the products & services to bring you our recommendations. We may earn money when you click our links - disclosure policy.
A talk and text plan is ideal if you don't need any data allowance. And with AT&T MVNOs, there's a cheaper way to get access to their nationwide coverage.
Powered by the main wireless networks, MVNOs offer a range of plans at a fraction of the cost. It is quickly becoming the most popular way for people to save money on their cell phone bills while still getting the same quality coverage.
Talk and text plans are great for emergency use, for your kids' first phone, or if you don't need any data.
If you want to find the best talk and text plan, check out the deals below with their MVNOs.
---
AT&T unlimited talk & text plans reviewed & rated in December
How to choose the best talk & text plan on AT&T
Does AT&T offer coverage where you live?
Operating on the AT&T 5G & 4G LTE wireless network, AT&T MVNOs offer the same coverage. According to an Opensignal network experience report 2023, AT&T comes out as the best for availability. If you're new to the AT&T network, you can use our coverage map to find the best cell phone service in your area.
What's the monthly cost?
While AT&T unlimited plans cost around $65-85 per month, the best way to get an AT&T unlimited data plan is from one of their low-cost carriers. Offering budget-friendly plans ranging from around $15-45 per month without compromising wireless coverage and data speeds. Be cautious of undisclosed fees and taxes, including activation fees, as certain prepaid carriers incorporate these into the total cost while AT&T doesn't.
How many lines do you need?
With AT&T, you only get the advertised low price if you buy four lines. But with AT&T's low-cost carriers, the price you see is the price you pay, even for a single line. Many low-cost carriers now offer further family plan discounts for multi-line plans.
Can I bring my own phone or buy a new device?
AT&T loves keeping you locked into a constant phone upgrade cycle. But you can bring your own phone to AT&T with their Mobile Virtual Network Operators. This means you take back control and only change your phone when it suits you. Just make sure your phone's unlocked from your old carrier. If you do want to purchase a new smartphone, many MVNOs offer a great way with 0% financing over 1-2 years with offers including the latest iPhone and Samsung models.
Are there any deals or promotions?
Promotions on AT&T's wireless service can seem good at a glance. But once you read the small print, it often leads to buying things you don't need and being stuck in 3-year phone contracts. MVNOs offer a unique service model to build your own plan to fit your needs. Often with unlimited minutes and texts, with many offering short-term introductory discounts for new customers, and their pricing is more transparent.
What perks are included?
Some AT&T plans have premium data along with complimentary TV subscriptions for SD and 4K UHD TV streaming. But these often convert into paid subscriptions that are automatically billed after a few months. Some affordable carriers do provide plan choices with free subscription services like HBO Max. However, it's generally advisable to keep these subscriptions separate to avoid paying for unnecessary things.
What international features are available?
Several low-cost carriers on AT&T's network offer unlimited international talk to 60 or more countries, with some also offering unlimited international texting. If this is important to you, make sure to choose a provider that includes this. If you travel regularly, checking the carrier's data roaming availability is vital to avoid unexpected costs or inconvenience while you're abroad.
Do they offer parental controls?
Many MVNO carriers offer parental control features that enable parents to monitor their children's phone usage and data consumption. With parental controls, you can set data limits, restrict access to certain apps or websites, and even track your child's location. Some AT&T MVNOs offer these features as part of their standard plans, or you'll find this feature on your cell phone.
Check out our comparison of the cheapest AT&T cell phone plans before you decide.
---
Find the best cell phone service in your area
Switch & Save $600 per year
If you're new to AT&T, you can check coverage in your area using our ZIP code checker. Not sure AT&T has the right plan for you? There are plenty of low-cost Verizon talk and text plans, and T-Mobile talk and text plans to choose from.
Compare the cheapest talk & text plans
---
Recap: What is the best AT&T talk & text plan?
AT&T MVNOs offer affordable talk and text plans suitable for all budgets.
With no contract, MVNOs provide flexible plans, so if you need to add additional features or data to your plan, you can amend it at any time.
To save even more money, low-cost carriers encourage you to bring your phone, making switching over quick and easy.
AT&T prepaid plan guides
MoneySavingPro methodology
At MoneySavingPro, we're all about finding and sharing affordable cell phone plans that offer the best value for money. We put a lot of care into looking at all the options out there, focusing on what's best for you, the consumer. Our goal is to help you save money by showing you cheaper alternatives to the expensive plans from the big wireless companies.
With over 10 years of experience in the industry, we intentionally don't recommend plans from the big wireless networks in our reviews. This is because of how they handle their pricing and fees and their lack of transparency.
AT&T MVNOs operate on the same AT&T network, and we research each AT&T low-cost carrier with the features and benefits it offers. This includes coverage, easy activation, eSIM compatibility, multiline discounts, and special discounts for specific demographics such as military, students, seniors, and more.
We also examine additional perks like pay-as-you-go options, unlimited plans, kids plans, senior plans, and smartwatch plans, evaluating them for their individual benefits and overall value.
We did consider these other AT&T alternatives, Cricket Wireless, Straight Talk, and Consumer Cellular, but we discounted them because we still don't consider these to be good value for money.
We regularly update our comparisons. Updating cell phone plans weekly and our content every 3 months. To make sure we are showing the latest and most accurate information.
Calculate Your Savings How much could you save by switching carrier?