US Mobile reviews: 87 customer service reviews
US Mobile customer reviews & complaints in 2023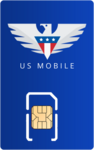 Customer Reviews
4.2
87 US Mobile reviews
Is US Mobile good?
US Mobile has an average rating of 4.2 stars from 87 reviews, indicating most customers are satisfied with this carrier. US Mobile ranks 2nd out of 28 cell phone carriers reviewed on MoneySavingPro.
Low priced data plans and great customer service
I switched to US Mobile after facing customer service issues with Google Fi, where I was regularly paying over $30 a month despite using minimal data. I had previously tried out other services, but was met with terrible customer service or rubbish service quality. Taking advantage of US Mobile's 100-day free trial, I was impressed enough to opt for their pooled plan. My single line cost me $9, with an additional $0.48 in fees and $2 per GB of data. So, my total monthly bill came to just $11….48. If I ever ran low on data, topping up was an easy $2 per GB.
Cheap and customizable to your needs
I highly recommend giving this company a shot. They offer plans that can be customized to fit your budget and needs, making them a fantastic choice.
One of the best
For years, I've had no reason to consider another carrier because the service from US Mobile has been excellent. However, if you're someone who consumes a lot of data, it might not be the best option for you.
Cheap price!
US Mobile offers great prices and top-notch customer service. Although the connectivity can be a bit inconsistent at times, I've been advised to reset the SIM card, which can fix the issue. Overall, I'm pleased with the service.
Great prices and customer support
I've been with them for six months and have had to contact tech support three times. The first time was a simple issue that was quickly resolved. The other two times involved challenges with Wi-Fi calling on my phones. The team spent two days adjusting the SIM for my first phone before we realized the phone itself was the issue. For my second phone with a similar problem, their extended efforts led them to suggest switching to an alternative network. They assisted me in transferring my numb…er and it worked flawlessly. Their customer service is nothing short of patient and tenacious.
Reliable network for half the price!
The network is reliable, which makes sense given that it operates on Verizon's infrastructure. What sets it apart is its more affordable pricing. Additionally, the ability to tailor your plans is a significant advantage.
Amazing price for minutes and data
While the coverage isn't as extensive as I'd like, the cost savings are significant. I'm saving $95 compared to my two previous Verizon lines, so the financial benefits ultimately outweighed my concerns about coverage. The pricing for both minutes and data is excellent.
Affordable for everyone
The US Mobile plans are cheap and are affordable for everyone.
Satisfied US Mobile customer!
US Mobile is fantastic, other than the fact their prices are so affordable, their customer service is truly exceptional. I've never encountered a rep who wasn't both friendly and eager to go the extra mile. I've consistently received helpful, positive interactions.
High quality service
The online customer support was notably helpful, and we're satisfied with the quality of service at the low-cost. We do wish, however, that US Mobile could extend their offerings to include internet service, much like Verizon and T-Mobile.
Great
So far ,its great service and excellent price ,for 3 lines only 25 dollars per line thats a deal.
Calls drop
I was using MINT and I switched to US Mobile but phone calls started to drop. I called them and they advised to install some third party files into my iphone 12 (brand new phone) !!!
Reasonably priced
It's a solid network, which is unsurprising since it runs on Verizon's network. But it's at a better price. You can also customize your plans, which is a big plus.
Fits my needs like a glove
You can't beat the price for the customizability. Service is 99% very good and the you get high data speeds.
Recommended
simple to set up account and activate sim card. no problems with US Mobile
Flexible af
Plans are super customizable. It's also very easy to activate the phone line. Coverage is great too. Very happy with US Mobile.
Not too bad
I purchased a US Mobile plan for my son and he likes how he can watch youtube without buffering problems.
So worth it
I've swapped my family to US Mobile and it feels so GOOD to be saving so much. I'm not kidding when I say that we cut our phone bill in half. The process to activate and port your number over is easy too.
Unreliable
I wanted to like this service. It's cheap and the customer service is as helpful as they can be. It supposedly had service in my area but I get poor signal here. I don't receive every call before it gets sent to voicemail and conversations get dropped. It's been nothing but a nightmare.
So great!
I have nothing bad to say about this service. I thought because of the price it would be at best a mediocre service but I was proven wrong! There's nothing different from my AT&T service. How these guys manage to charge so little is beyond me!
---
US Mobile Q&As
US Mobile is a low-cost wireless service. Known as an MVNO (Mobile Virtual Network Operator) you could save up to $600 a year on your cell phone bill, without compromising quality.
US Mobile operates on both the Verizon and T-Mobile networks.
Powered by the main T-Mobile and Verizon networks, you'll have coverage where Verizon and T-Mobile are available.
Yes, you can get access to the 5G network at no extra cost with US Mobile, with a 5G compatible device.
As an MVNO, US Mobile's plans offer affordable options on the Verizon or T-Mobile network.
You can purchase a US Mobile SIM starter kit online in a few simple steps.
You can check your IMEI number, but most modern mobile phones are compatible with US Mobile.
US Mobile works on both the CDMA and GSM networks.
Their basic plans start from around $8 up to $45 a month.
As an MVNO, US Mobile could save you hundreds of dollars on your cell phone bill. If you're looking for a new cell phone plan on the Verizon or T-Mobile network it could be worth checking out their plans.
---
US Mobile guides
About US Mobile
| | |
| --- | --- |
| Founded | 2014 |
| Headquarters | 50 Main Street, White Plains, NY 10606 |
| Employees | 50 |
| Customer service | (878) 205-0088 |
Best cell phone carriers in 2023
Calculate Your Savings
How much could you save by switching carrier?