Tello reviews: 102 customer service reviews
Tello customer reviews & complaints in 2023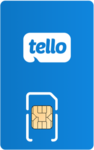 Customer Reviews
4.1
102 Tello reviews
Is Tello good?
Tello has an average rating of 4.1 stars from 102 reviews, indicating most customers are satisfied with this carrier. Tello ranks 3rd out of 28 cell phone carriers reviewed on MoneySavingPro.
10 perfect Tello days
My wife and I have had Tello for 10 days now. No problems at all! We both were able to choose different plans on talk minutes...she chose unlimited. I chose 300 minutes. As for data we both chose 5gb. Our both lines cost us 36 bucks a month! And in these 10 days our texts and call quality has been excellent. Customer service was friendly and very patient with us (we're old) 😊 during activation. After all our research on choosing a provider we definitely got it right. We highly recommend …Tello!
Reliable coverage and fantastic price
The cost is fantastic and the coverage is generally reliable. However, I do lose signal in any mountainous areas, so that's the only reason I'm rating it four stars instead of a perfect five.
Good value for money
Amazing price, good call quality and service. No complaints from me!
Big fan!
I'm a big fan of Tello. It's affordable, the customer service is approachable, and the call quality is excellent.
Perfect for my business
As a small business owner, dependable phone service at a reasonable cost is crucial for my work. Tello fits the bill perfectly for my needs.
Incredibly pleased, customer since 2021
Since becoming a customer in 2021, I've been incredibly pleased with Tello. They offer not only cost-effective plans but also high-quality services, managed by an outstanding team. Conducting business with them has been seamless. Keep doing an amazing job, Tello!
Highly recommend
Tello is a cost-effective carrier that I have no intention of parting ways with in the near future. Their plans are well-suited for my minimal phone usage.
Affordable plans
While Tello provides an affordable and straightforward subscription process, the 5G connectivity can be hit or miss. Additionally, the necessity to toggle cellular mode on is a minor inconvenience. Overall, it's a good deal especially for the price.
Good service at a low-cost
Tello's plans are budget-friendly, offer solid service, and the company is easy to deal with.
Patchy service, but the price is worth it
I'm a fan of the affordable rates and the minimal taxes and fees. While the data speed is consistently slow and the coverage can be spotty, the overall cost makes it worthwhile. I've also noticed that I sometimes lose a day of service, perhaps due to a 30-day billing cycle, but given the low price, I have no plans to switch carriers anytime soon.
Cheap price great for my needs
At 87 years old, I primarily use my cell phone to assist others rather than for my own needs. Tello's monthly renewal and affordable rate are perfect for my limited usage, especially since I don't text. The cost comes in at under $10 a month, which suits my needs perfectly.
Sim card will not work on a base unit
Those at Tello trying to sell me on the idea just don't know what they are talking about.
I will never use another cell phone server.
I will never use another cell phone server. I can't imagine anybody else being better than Tello! The service people speak English well, take as much time as you need to help you, and are very very knowledgeable.
Would recommend
Friend recommended me tello and I'm glad they did. Plans are cheap,and they're good
Budget friendly with a great value
A great service. Very low pricing. Good calls.
Tello is forcing me to buy a new phone.
I have Sprint CDMA and Tello no longer supports it so they are forcing me to buy a new phone. I ordered one and they sent me the wrong one. It has been a nightmare (2+ hours chatting, emailing, etc) working out getting their phone returned. The CS rep dropped the chat without sending a label. Now am waiting for an email response. In CS hell because of their mistake. Was a h
Low prices
And that's not a bad thing. I'm able to have a burner phone for my business because of Tello. The calls and texts come in just fine too. Really satisfied with Tello and its plans.
A pleasant change of pace
I really mean it when I say I love Tello. These guys are so different compared to Verizon. The reps are very friendly and they're always helpful. There are no hidden costs either. No strings attached. I would recommend Tello to anyone and everyone.
Low fees for high quality
Really like Tello. Cheap with friendly customer service and high quality calling.
No help any more,
Just had to buy new phone to upgrade. it won't activate even with another new sim card. No response to any questions anymore. No working phone- nothing.
---
Tello Q&As
Tello is an MVNO (Mobile Virtual Network Operator). As a low-cost carrier, they offer prepaid cell phone plans that operate on the same major US networks, while helping to save money.
Tello is powered by the T-Mobile network.
Operating on the T-Mobile network, Tello provides coverage in areas where T-Mobile is available.
Yes, Tello does offer 5G at no extra cost, if you have a compatible 5G device.
Tello offers budget-friendly plans with mix and match options.
You'll find Tello SIM cards online. Choose your plan from the comfort of your own home.
Most unlocked GSM phones are compatible with Tello.
Tello works on the GSM network.
Plans can start from as little as $10 a month, ranging up to around $40 a month for unlimited.
If the T-Mobile network is available in your area and you're looking to save money on your cell phone bill, Tello's plans could be worth checking out with the chance to save up to $600 a year without compromising quality.
---
Tello guides
About Tello
| | |
| --- | --- |
| Founded | 2002 |
| Headquarters | 4780 Ashford Dunwoody Rd, Suite A 236 Atlanta, GA, 30338 United States |
| Employees | 51-200 |
| Customer service | (866) 377-0294 |
Best cell phone carriers in 2023
Calculate Your Savings
How much could you save by switching carrier?