Ultra Mobile reviews: 72 customer service reviews
Ultra Mobile customer reviews & complaints in 2023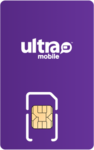 Customer Reviews
3.4
72 Ultra Mobile reviews
Is Ultra Mobile good?
Ultra Mobile has an average rating of 3.4 stars from 72 reviews, indicating most customers are satisfied with this carrier. Ultra Mobile ranks 7th out of 28 cell phone carriers reviewed on MoneySavingPro.
Fair prices and good service
Straightforward and basic, the SIM card arrived without any problems. The plans are not only affordable but also reliable.
Good service if you've got coverage
I'm really satisfied with Ultra Mobile's service, which offers unlimited national calls and texts at a very affordable rate. As long as you're within T-Mobile's coverage, it's an excellent option for those mainly interested in calling and texting.
Just what I needed at a cheap price
I needed a basic plan with limited internet and couldn't find anything affordable with major carriers, whose plans usually start at $30. Ultramobile offered me a budget-friendly option without requiring a yearly commitment. The only drawback was the lack of choice in selecting an area code or phone number; otherwise, I'd give it a 5-star rating.
Do not port your number into this horrible service
Do not port your number into this horrible service. I've been trying everyday for 6 days to get my number back to AT&T. Ultra will not give me the correct account number for porting. Keep telling you tomarrow Filed complaint FCC and utilities commission. Writing this review to warn others.
Cheap cell phone plan with international calling
I took the plunge with a one-year Ultra Mobile plan after seeing online reviews, and so far, it's been a good decision. While the 1GB data limit is on the lower side, there are plans with larger data allowances. What really sold me was the unlimited messaging and free international calls to countries that matter to me. The affordability of the plan was a big factor in my decision to switch from T-Mobile.
Save yourself from AT&T!
After over a decade with AT&T, I finally made the switch to Ultra Mobile. They had discreetly upgraded my old plan, so I decided it was time for a change. I've been testing Ultra Mobile for two weeks now and haven't encountered any issues. The SIM card arrived promptly, and porting my old number was a hassle-free process that took just about an hour. My wife, who's still on AT&T, hasn't had any trouble receiving calls from me. She'll also be joining Ultra Mobile …soon, and we're looking forward to saving a lot of money. I used to pay $85 a month for a shared AT&T plan, and now we'll be spending roughly $25 a month for two individual plans. Make sure to check their coverage, as they use the T-Mobile network, which fortunately covers all the areas I frequent.
Just what I need!
Great pricing for their plans and super easy to activate. Thanks Ultra Mobile!
The Best and for Cheap
Swapped from Cricket mobile to Ultra and I'm having a better time with Ultra. They have superior customer service and I can contact my friends in other countries. I would recommend Ultra to my friends and family.
Affordable and nice
Very affordable and comes with unlimited talk and text. Thanks Ultra
Ads sent me to Ultra
I saw lots of ads for Ultra Mobile on Pluto tv (iirc) and decided to give it a shot. It is a little more expensive than Mint Mobile but it's also much faster. I think I'll stick with it.
Ultra by T-Mobile
Has a good signal for a T-Mobile service. Worth every penny I paid for.
Mint's so much better
Ultra Mobile's garbage. It's a ripoff for the same service as Mint.
Pretty good
Sometimes data doesn't work but it's overall good. Does the job if you're traveling in the US.
An ULTRA good network
I really like Ultra Mobile. The SIM card is so easy to install and activate and you get fast internet and I get 5 bars no matter where I go. It saves me a lot of money too. I left Verizon for Ultra Mobile and I'll never look back.
Great!
UltraMobile offers great pricing for their plans. Easy to activate .
Works most of the time...
The Ultra Mobile app works most of the time but sometimes it stops working. The only fix is to uninstall and reinstall. When it works it works great.
A great value.
Ultra Mobile has great coverage for my phone for cheap and offers unlimited International Texting to over 80 countries which I absolutely need and love because I have a lot of family members outside the US.
Service is pretty fair
Very basic. SIM card came in without issues. Cheap plans that are also reliable.
A scam.
I prepaid for the service and I couldn't turn it on. Ultra Mobile are scammers!
I've been a loyal customer all this time
And they were really good at what they did. They provided premium service at affordable prices. Now they are just plain scummy and try to scam people using a lot of traps. Just go to Mint Mobile. They're much better at what they do.
---
Ultra Mobile Q&As
Ultra Mobile is an MVNO (also known as a Mobile Virtual Network Operator), offering prepaid plans at affordable prices. Operating on the same US networks you can save money without compromise.
The T-Mobile network powers Ultra Mobile.
Ultra Mobile operates on the T-Mobile network, so there is coverage where T-Mobile is available.
Yes, Ultra Mobile has 5G at no extra cost, for use with a 5G compatible device.
Ultra Mobile is a good option if you need international calling options.
You can easily pick up your Ultra Mobile SIM card online and have it sent straight to your door.
Most unlocked GSM phones or phones that use a SIM card are compatible.
Ultra Mobile works on the GSM network.
Ultra Mobile plans range from around $10 a month up to $40 a month.
Ultra Mobile can save you up to $600 a year on your cell phone bill, and with their prepaid plans there are no long-term contracts. They offer great unlimited nationwide talk options, so if this is important their plans could be worth checking out.
---
Ultra Mobile guides
About Ultra Mobile
| | |
| --- | --- |
| Founded | 2011 |
| Headquarters | 1550 Scenic Avenue Suite 100 Costa Mesa, CA 92626-1420 |
| Employees | 51-200 |
| Customer service | (888) 777-0446 |
Best cell phone carriers in 2023
Calculate Your Savings
How much could you save by switching carrier?