Boost Infinite eSIM
Cheap Boost Infinite eSIM plans: Switch & save $600 per year
Boost Infinite Unlimited data eSIM plan

Unlimited 5G data
Unlimited talk & text
AT&T & T-Mobile 5G & 4G networks
* $25/mo Forever
MoneySavingPro independently researches the products & services to bring you our recommendations. We may earn money when you click our links - disclosure policy.
For great value deals, Boost Infinite eSIM plans to give you access to the AT&T network at half the price.
With MVNOs, you can save up to $600 a year on your cell phone bill without compromising quality.
Keep reading below for the latest Boost Infinite phone plans to help you find the best prepaid eSIM for you.
Boost Infinite eSIM plans
Best Boost Infinite eSIM plan
Boost Infinite unlimited data eSIM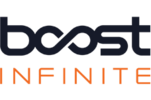 AT&T & T-Mobile 5G & 4G LTE networks Boost Infinite operates on the AT&T & T-Mobile 5G & 4G LTE networks. This allows you to receive the same wireless coverage but at a fraction of the cost.
Unlimited talk and text
Unlimited data
$600 in annual savings Savings are calculated comparing the cost of the Boost Infinite unlimited data eSIM vs an unlimited data plan from T-Mobile, AT&T or Verizon over the first 12 months.
---
Compare Boost Infinite eSIM plans
AT&T vs Boost Infinite comparison
Keep your AT&T phone, number & coverage: Save $600 per year
Carrier
Network Coverage
4G/5G Data
Price
Annual Cost
AT&T
AT&T 4G & 5G
Unlimited
$75/mo
$900/yr
Boost Infinite
AT&T 4G & 5G
Unlimited
$25/mo
$300/yr
Savings
$50/mo
$600/yr
---
What are the benefits of Boost Infinite eSIM?
Buy online: there's no need to visit a store, you can choose a plan from Boost Infinite online. This also means there are no expensive stores or retail spaces, so they can pass those savings on to you.
Customer support: Boost Infinite has a great reputation when it comes to looking after customers and being easy to get a hold of. Call them or get a speedy response through their online chat function.
Check out our full review of Boost Infinite.
Boost Infinite eSIM features
---
Boost Infinite network coverage comparison
Sources: RootMetrics, OpenSignal, and Ookla.
Boost Infinite customer service comparison
---
How to switch to Boost Infinite eSIM
You can bring your phone to Boost Infinite and complete your switch online.
You can check that your phone is compatible with Boost Infinite before signing up; the rest is a breeze.
Just ensure you don't cancel your current phone plan until you've ported your phone number to the new carrier.
Bring your own phone to Boost Infinite
Switching to Boost Infinite is super simple. You can do it in 3 easy steps:
Choose a suitable Boost Infinite plan.
Signup with Boost Infinite online and keep your phone number when you switch.
Activate your new Boost Infinite eSIM plan.
---
Boost Infinite eSIM FAQs
Boost Infinite operates on the AT&T network.
Yes, Boost Infinite does work with eSIMs, as long as your phone is compatible and supports eSIMs. Boost Infinite has a variety of eSIM plans to choose from.
---
Recap
eSIM carriers make switching not only easy but quick with an immediate connection. Once you've chosen your plan online, you're sent a QR code that activates your plan.
Boost Infinite is powered by the same AT&T and T-Mobile wireless networks, so you'll receive their quality coverage as buying directly the big wireless companies.
Boost Infinite guides
Calculate Your Savings How much could you save by switching carrier?