Affinity Cellular reviews: 17 customer service reviews
Affinity Cellular customer reviews & complaints in 2023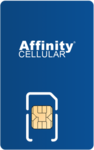 Customer Reviews
2.1
17 Affinity Cellular reviews
Is Affinity Cellular good?
Affinity Cellular has an average rating of 2.1 stars from 17 reviews, indicating most customers are dissatisfied with this carrier. Affinity Cellular ranks 17th out of 28 cell phone carriers reviewed on MoneySavingPro.
They are a fantastic company with great deals
We helped my mom get a phone and a plan just for her customized for optimal savings.
No issues in 5 years.
Good company. I would highly recommend them. I love my cell phone.
Great price and customer service!
Been a customer for several years now, and they are always easy to reach, knowledgeable, and solve any problem or question I've had. Great price for a tailored phone package.
Just Horrible!!
Seniors looking for something affordable. Customer service barely speaks English so the launguage barrier cost us from misunderstandings. 6 days no phone or activation having to use an online app on my computer to contact them ...exhausting. I would never recommend this service.
I wanted to change my number since I have moved.
Now my phone does not work. I can't call anyone.
Do Not use there are total dishonest clowns
They cannot keep an accurate billing system, they lie to you and are totally incompetents'. Select another service
I have received 4 phones and none worked properly
I am on my 4 phone and doesn't work. I followed the instructions and the phone is not usable. I can not get anyone to talk to. Mesage says they are open Fridays. Not so. It is friday. No one answers
HORRENDOUS customer service!
My wife ordered an iPhone 6s. She received a defective phone. We called to have a replacement phone which has been stuck in the USPS system for over 3 weeks and Affinity won't help in any way. They give us the runaround. Plus they charged us for the replacement phone without telling us.
everything!
I had horrible customer service! Was overcharged! I do not recommend anyone to use affinity cellular
customer service is terrible
Received my phone a week after I ordered it, when I tried to use it I received a message to contact provider for assistance, when Icall I received a recording from Verizon again telling me ro contact provider. I called Verizon and they told me that I had received a prepaid. I then called Affinity, after about 45 minutes trying to get phone plan corrected I told them to cancel my arder and would return the phone. The phone was returned and have not received a refund .
zte phone was terrible
got an ZTE flip phone and it sucks!!!
Who keeps customers on hold for 2.5 hours?
Did not receive what I ordered
everything else
billing is nightmare. tech support a joke
The price and service available.
Even if you cant get phone service you can still text.
cant get my old number ported
been a week since i tried to port my number . total nightmare !!! GOING TO BEST BUY
Service
Better service than the other cell phone companies I've had.
Shipping takes forever
Ordered a phone from affinity cellular. Took almost a month to receive my phone. Glad I had my old phone service - my doctors couldn't get a hold of me. Seriously reconsidering Affinity.
Listing 1 - 17 of 17 User Reviews
---
Affinity Cellular guides
About Affinity Cellular
| | |
| --- | --- |
| Founded | 2010 |
| Headquarters | 955 Kacena Road, Suite A Hiawatha, IA 52233 |
| Customer service | (866) 488-8717 |
Best cell phone carriers in 2023
Calculate Your Savings
How much could you save by switching carrier?