Visible reviews: 163 customer service reviews
Visible customer reviews & complaints in 2023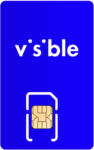 Customer Reviews
2.6
163 Visible reviews
Is Visible good?
Visible has an average rating of 2.6 stars from 163 reviews, indicating most customers are dissatisfied with this carrier. Visible ranks 13th out of 28 cell phone carriers reviewed on MoneySavingPro.
Simple Setup. Set it and Forget It.
We have been with Visible for 2 years. We left Xfinity Mobile due to the throttling of data, which appears to be slightly better with Visible in key areas (like stadiums full of people). Visible has no wifi-based coverage by default like Xfinity Mobile, so sometimes texts and calls are missed when in basements or poor coverage areas.
Always quit service suddenly
If I could I would give 0, JUNK!
Customer chat service is terrible.
The customer chats service, even with a live person did not work out for me. I was on chat for 1 1/2 days trying to get my new phone turned on...get my data transferred. Ultimately chat folks were unable to help me. Granted, I'm old and untechy but, I went to a verizon store and in 20 minutes all issues were solved. I'm hoping the new phone works and I don't have to go back to the chat people since they obviously do not know what they are doing.
I have never seen a worse company. Avoid!
I was excited to save money. 2 days later and many many hours of horrific customer service via chat bot, Facebook messaging and email I was ready to rip my hair out. they are so incompetent and so poorly run in the cust svc and their technology that it was as if I was dealing with 3 year olds who somehow got hold of a phone company. I cannot overexpress how terrible this company is and I'm still trying to get my $25 dollar deposit back that I gave them yesterday.
Good for people who know how to troubleshoot
I have been with visible for approx. 2 -3 yrs now. Overall I would say they are pretty good. Much better than my last carrier who was affiliated w/Walmart. Customer service is frustrating, good, bad, terrific & terrible. It depends on the person you text to. Only text support and there is almost always at least a 30-50 que. You have to get in line and wait and watch your phone b/c they will skip you within seconds. I avoid that by texting a quick, "Hi" asap and send before anythi…ng else. Usually, customer service gets problem solved. I have had a payment issue with them. It was my fault because b/c my bank refused a deposit. They re-started my service as soon as I got the payment in. Overall I really like visible. They have good coverage and occasionally good deals on phones. The bad thing about visible is waiting in que for customer service. I have a party line still (won't upgrade yet). I have room for one more. Click this link and join. Right now we pay $30/month. With a4th it is suppose to be $25/line. You deal with your own bills which is really helpful.
Help only available through chat
Visible sent out new sim card and I followed the activation steps, but it did not activate and my old sim card won't work either. I have been without a phone for 11 hours. An internal system or something went down and they have not fixed it. They have provided no information to the customers through email, on their App or through chat. Customer service is terrible. Chat is the only option and I have waited from 30-90 minutes each of the five times I have used Chat today. They have no …idea when this will be fixed. I use my phone for business.
Visible Wireless, clueless, forget about customer
Verizion/Visible hacked Dec 2022, nocommunication from them. Decided to change acct. password and credit card and sim card. Although account address was correct they shipped me 3 Sim cards! None of them worked in the phone I was using on Visible. Talked with 4 reps via chat, none had ackue, kept reading from call center script. Found out Sims didn't work because visible deleted my plan. Their solution was upgrade to a more expensive plan and ship me yet another sim card. All this over 3 day…s and +8 hours on chat with support. Asked for refund 3 days service due to their problems, wanted credit to my credit card, they can only give account credit. WOW what a bad experience! Im6 moving to Verizion until I can setup on another carrier. Oh BTW, can't talk to anybody, chat only outside the US!
If I could leave a 0 star I would.
Tried to signup. Took 2+ hrs until their site finally allowed me to finish the signup portion. Never could get the payment finished. They kept saying 5 of my credit cards were invalid. Not even close! Called the bank and credit union and they said visible never tried an authorization... nothing from them. After 2 days trying, I gave up. Tried to cancel my account but customer service is 100% the worst. They never have the chat available. When you start the chat it tells you how many people are i…n front of you... always at least 29 to 45 (every time). If you wait the 45 min to 1hr, when it gets to 1 it disconnects the chat saying I was inactive too long so they cancelled it. 100% of the time this happens. DO NOT USE THIS COMPANY!!!!!!!
Horrible!!
Tried switching over to them but they couldn't port my number in for five days so I gave up and went back to Verizon, custom service robots are useless and getting a real human is difficult, it takes hours. Now trying to get back a refund but that's also not happening so I'm disputing the charges with my bank, it seems that they know when it's you trying to get through on the chat and then they block you or shut down the site, I waited from number 49 in line to number 1 then was dropped…, don't waste your time with these guys unless you have nothing better to do. If you have T mobile service in your area then go to mint mobile if you want to save some money, they have real customer service by phone.
Good speed/coverage, but you are on your own
I have the $45 plan and the data speed and coverage are excellent, but good luck reaching customer service when something goes wrong. That is the only drawback with this service though.
JUNK!
Service and customer service is horrible
Good for gaming
I can't complain about much. I had troubles with Visible at the beginning, but after a network bug was fixed, I've had a pleasant experience. I can play some ping-reliant games like COD mobile and genshin impact.
Started out awesome...
Service is lagging constantly. At first they were good but nowadays I get more lag than decent service. I can't use my data this way, so I'm giving up.
Can't something be done about the app?
I have a love/hate relationship with Visible. Sometimes it works like it should, then other times service is so throttled nothing will work on it. App also leaves much to be desired. Crashes a lot and requires constant updates. Hopefully they can fix this throttling.
Inconsistent service thanks to congestion
The website is good but the app needs work. It's overall a good deal but honestly it's gotten worse since it got super popular. Data speeds are really inconsistent and a lot of the time my calls get dropped. I don't think Visible can handle this many customers at once.
Just as good as Verizon without the bells and whistles
Had Verizon but switched to Visible after hearing about how cheap it is. Works well enough for me. It's straight forward and doesn't have as many features as Verizon, but I didn't really care about Verizon's perks.
No problems with Visible
Good service, good prices too. Surprised at the negative reviews that call Visible a scam. I've had zero problems with the company. Quality is excellent and even the premium plan is cheap. I don't know why people are complaining about it.
Takes a long time to get a hold of someone
The phone service isn't that bad. Prices are good but it takes a long time to get a hold of customer service.
Don't rely on customer support.
Why does it take forever to get to what they claim as 24/7 customer support? Seriously, I had to wait 3 days before someone contacted me.
Getting what you pay for
The plan is inexpensive but with a catch. Some days you'll have to deal with high congestion. This congestion can severely impact your data speeds. On these days I can't even use my data. I have to make sure I'm on wifi if I'm going to use anything app related. If you can live without data on a fairly regular basis, then this is the plan for you.
---
Visibile guides
About Visible
| | |
| --- | --- |
| Founded | 2016 |
| Headquarters | 1200 17th St., Denver, CO 80202 |
| Employees | 51 - 200 |
Best cell phone carriers in 2023
Best Visible alternatives
Calculate Your Savings
How much could you save by switching carrier?