AT&T & Verizon coverage at the cheapest prices
You may know that Verizon and AT&T are the two largest wireless carriers in the nation.
But do you know which one has the best coverage in your area? Or how much of the time you'll get a 4G LTE connection on each network?
In this guide, you'll get the answers to both those questions, along with valuable tips on saving over 50% on your cell phone bill.
I'll show you the Verizon vs AT&T coverage maps and tell you how to get the best prices on your calling, texting, and data.
Table of Contents
Verizon vs AT&T: MVNOs
Get Big Network Coverage Without the Big Prices
I promised to tell you how to save a ton on your cell phone service and now is the time. There's no longer any reason to pay up to $90 a month per line.
If you spend any time on the internet at all, you no doubt have seen ads for smaller carriers called MVNOs (Mobile Virtual Network Operators). These companies, like Mint Mobile and US Mobile, use the big four carriers' networks to provide you with cheaper cell service.
How can they do this? Easily. Alternative carriers don't have high overhead and marketing costs like the big guys, so they pass the savings along to the customer. You get the same solid service without the bank-breaking plan costs of, say, the AT&T family plan or Verizon Unlimited.
Benefits of MVNOs:
Cheaper rates. Save as much as 50% or more.
Nationwide coverage on the most reliable 4G networks.
Custom prepaid plans. Pay only for what you actually need and use.
Sign up quickly and easily - typically online.
Keep your phone number and your device - just swap out SIM cards.
Enjoy 7-day a week (sometimes 24-hours a day) customer support.
MVNOs are shaking up the competitive world of mobile service, to the consumer's advantage. Plus, many alternative providers offer discounts or special offers to first-time customers, saving you even more.
---
---
---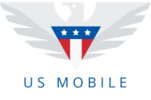 Unlimitedmins
Unlimitedtexts
Powered by: Verizon & T-Mobile
---
Coverage Comparison
All of the major carriers claim they have the best wireless coverage. Here's the truth: it really only matters how good the network coverage is in the area where you spend the most time, and any areas to which you travel regularly.
The other important truth is that all of the networks offer 4G LTE service across most of the nation. The difference between the four big guys is a few percentage points. So the fact is you only need to decide which network is best for your personal needs in terms of features and plan costs.
Verizon Coverage
The Verizon network is known for its high data speeds and extensive LTE coverage throughout urban areas. Verizon offers service not only across more than 98% of populated areas of the United States but also in more remote areas through its LTE in Rural America Program.
That said, every carrier does have dead zones. Most of these are in rural areas where there are few or no people.
Weak/No Coverage Areas:
Most of Alaska
Scattered spots throughout the South and Northeast
Areas throughout the western US and along the west coast
AT&T Coverage
The AT&T LTE network offers strong coverage across most of the U.S. The carrier also moved up in texting reliability in the past year, landing a spot in a three-way tie with Verizon and Sprint in the 2017 mobile performance assessment by RootMetrics.
Some of AT&T's weak spots are dead zones and some are covered by 3G speeds or a third-party roaming partner.
Weak/No Coverage Areas:
Large areas of Nebraska, Idaho, Nevada, Wyoming, and Montana
Northern and eastern Arizona
Minor areas of Utah
Central western New Mexico
Spotty areas throughout California, Oregon, and Washington
Spotty areas in Maine
For the most part, these areas are minor and largely unpopulated. Still, it's important to examine the areas where you'll need to use your cell phone on a regular basis.
How fast is Verizon Wireless vs AT&T? Opensignal looks at just that in its State of the Mobile Network report:
Average 4G download speeds:
Verizon - 17.77 Mbps
AT&T - 13.27 Mbps
Finally, how often will you get 4G reception on both of these networks?
Percentage of time with 4G signal:
Verizon - 92.7%
AT&T - 87%
Smartphone Savings
MVNOs aren't the only way to save money on your cell phone costs. Bringing your own phone to your new mobile plan can put even more dollars back in your pocket.
Rather than pouring $400 to $1,000 into a new device payment plan every year or two, consider these money-saving options.
1. Bring Your Own Phone
Does your phone still work just fine to talk, text, and stream video and music? Why not bring it with you?
BYOP benefits include:
Saving up to $40 a month in device installments.
Changing carriers easily just by switching out SIM cards.
You don't trade-in your TV every time a new, more expensive model comes out, so why do it with your smartphone?
2. Buy a Refurbished Smartphone
The refurbished smartphone market is a 14 billion dollar industry, according to Statista. You can save over 50% by buying a refurbished phone.
The truth is that even though new iPhones and Samsung Galaxy S models come out virtually every year, the changes to each model are small, and typically not worth the hundreds you'll put into the latest incarnation.
Verizon vs AT&T FAQs
Is AT&T as good as Verizon?
AT&T and Verizon are as close as you can get when it comes to nationwide 4G LTE coverage, with Verizon beating AT&T by 2%. Both provide a good selection of MVNO plans to suit all needs and budgets.
Which is cheaper AT&T or Verizon?
You can get a great deal on MVNOs running on the AT&T or Verizon network. Both offer cell phone plans suited to all needs and budgets.
Which has better coverage AT&T or Verizon?
Verizon's nationwide 4G LTE coverage beats AT&T by only 2%. You can use your ZIP code to check who has better coverage in your area.
Should I switch from AT&T to Verizon?
Both have similar 4G LTE coverage, but it depends on what you need from your cell phone plan. You can compare AT&T MVNOs and Verizon MVNOs to see whether it's worth switching.
Recap
In the battle of the networks between AT&T vs Verizon, the best cell phone carrier for you is the one that offers the best 4G LTE coverage where you live and in the areas you visit regularly.
Once you've decided on the best network for you, you will save money by switching to an MVNO on that network. It's a breeze to use our comparison tool to find a cheaper phone plan.
Then, just enjoy the extra money in your pocket!