Best CDMA network carriers in October
CDMA carrier benefits
Same great nationwide coverage: These cell phone carriers operate on the very same networks as the big four carriers.
Much lower prices: Save up to $600 per year on your cell phone plan. Why are MVNOs so much cheaper? They don't have the huge overhead and advertising costs the big guys do.
No contracts: Don't get trapped into a two-year agreement. Switch carriers when you decide to with a no contract phone plan.
Same cell phone service: Just because you're paying less, that doesn't mean you have to scrimp on features. Plans with unlimited everything are easy to find from these prepaid carriers. Usually, a low cost carrier plan comes with unlimited talk and text as standard, high speed data, and even mobile hotspot data features.
Keep your phone and number: You can bring your own phone and keep your phone number. No need to sign up for pricey device payments.
Customize your plan: You decide how much data you need. Choose to pay as you go, opt for unlimited or no data, minimal minutes, or unlimited talk text and data. Unlimited data plans come at a much better price with an alternative carrier. Pick the plan options that fit your budget - not the one your carrier thinks you need.
Great customer support: Smaller mobile providers are known for their attention to their customers. Stop feeling like an anonymous number getting lost in the crowd! Check out our carrier user reviews before switching.
---
Best Verizon CDMA carrier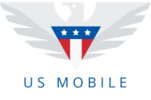 Unlimitedmins
Unlimitedtexts
Powered by: Verizon & T-Mobile
Verizon vs US Mobile Plan Comparison
Keep your Verizon phone, number & coverage: Save $780 per year
Carrier
Network

Coverage

4G LTE

Data
Price

Annual

Cost
Verizon
Verizon 4G LTE
Unltd*
$80/mo
$960/yr
US Mobile
Verizon 4G LTE
5GB
$15/mo
$180/yr
*Don't waste money on unlimited data - Avg. data usage is only 3-5GB
Savings
$65/mo
$780/yr
---
CDMA carrier features
4G LTE data speeds: Since MVNOs operate on the big four cellular networks you'll pay less without sacrificing speed. More and more are adding 5G coverage all the time so you can expect high-speed data.
Unlimited talk and text messaging: Finding a new unlimited plan has never been easier. Virtually all small carriers include unlimited text and calls in their plan options. Compare cheap talk and text plans with or without data.
International calls to Canada and Mexico: International calling is a must for many people. Luckily MVNOs offer some of the best international phone plans, with free calling to certain countries like Canada and Mexico, and discounted rates on others.
Multiline discounts: Low-cost carriers also offer some of the cheapest family cell phone plans, with multi-line discounts.
Wi-Fi calling: This feature is handy when you're out of your service area, allowing you to make calls over the internet instead of on your cellular connection.
Tethering/hotspot data: Many low-cost carriers allow you to use your phone as a hotspot. Pick an MVNO with the best mobile hotspot plans so you can share your mobile hotspot data with other devices.
HD video streaming: Just like the big guys, some MVNOs offer HD video streaming and some don't. Read the fine print to find the option you want.
Compare CDMA carrier plans
Carrier
Network
Minutes
Texts
Data
Price
US Mobile
Verizon & T-Mobile
Unltd
Unltd
1GB
$12

Free Starter Kit with code: MSPUSM

Ting
T-Mobile & Verizon
Unltd
Unltd
Unltd
$25*

* $20 Off for 3 Months

US Mobile
Verizon & T-Mobile
Unltd
Unltd
30GB
$30

Free Starter Kit with code: MSPUSM

Red Pocket
AT&T, Verizon & T-Mobile
Unltd
Unltd
3GB
$10*

* 50% Off First Month

Ting
T-Mobile & Verizon
Unltd
Unltd
5GB
$20*

* $5 Off for 6 Months
---
CDMA carrier coverage
Which prepaid carrier is best for you? That depends on which network has the best coverage in your area.
Whether you go with a GSM carrier (T-Mobile and AT&T) or a CDMA carrier (Verizon) you'll enjoy national coverage, just like with the major carriers.
Network performance ratings
Source: Rootmetrics
---
Which carriers are CDMA?
We've included a full list of CDMA carriers below:
Verizon CDMA network list
---
What is the CDMA network?
CDMA - Code Division Multiple Access - is used mainly across the US. This is one of the main differences between CDMA and GSM, as GSM is a technology used worldwide.
Both technologies fill in the gap when 4G is not available, to make sure you still have coverage.
Which is better CDMA or GSM?
This can still be a confusing topic for consumers and it's really more a personal preference when it comes to CDMA and GSM.
It's easier to swap phones with a GSM phone as the information is stored on a SIM card and GSM carriers do not have as much control over the phone used. With CDMA you need the permission of your carrier.
Whether you have a CDMA phone or a GSM phone you can find the best low-cost carriers for both networks.
---
Best CDMA unlocked phones
---
CDMA unlocked phone benefits
Save 50% or more off retail: Get flagship smartphones in excellent condition for hundreds less than new.
It's great value for your dollar: New phone models usually only get minor upgrades from year to year. Keep your money, but get all the best features.
Retain your freedom: Buying your phone outright means you decide when to leave your carrier to find a cheaper cell phone plan.
What does CDMA unlocked mean?
A CDMA unlocked phone means that you are free to choose a cell phone plan from any provider that uses the CDMA network. There are some great budget-friendly bring your own phone plans available or you can choose from a range of MVNO's
Newer CDMA phones tend to be unlocked, due to also using GSM technology. So if you have a phone that is only a few years old it is likely to be unlocked giving you the chance to find a better cell phone plan.
---
CDMA carriers FAQs
---
Recap
Verizon runs on the CDMA network and switching to a Verizon MVNO can cut your monthly cell phone bills in half.
Bridging the gap when 4G is not available, CDMA is mainly used in the US. Although old CDMA phones had no SIM card, ones made in the last few years do and most are compatible with the GSM network.
If you're looking to bring your own phone you can check if your handset is compatible with our IMEI checker.
MoneySavingPro methodology
We're here to bring transparency to telecoms, putting power back in your hands. This guides everything we do.
We've got high standards. We use our industry expertise to find carriers that reach these standards. We all deserve the best value for money, choice and customer experience.
We care about accuracy. MoneySavingPro is run by cell phone geeks and money saving obsessives. Our content team researches everything thoroughly so that information you read here will give you the whole picture. Everything we do is backed up by the data.
We keep things simple. It's our job to break down what you need to know, so you can make informed choices.
| Carrier | Best for... | Mins | Texts | Data | Price |
| --- | --- | --- | --- | --- | --- |
| Ting | Best prepaid plan | Unlimited | Unlimited | 5GB | $25/mo |
| US Mobile | Best unlimited plan | Unlimited | Unlimited | Unlimited | $45/mo |
| Red Pocket | Best cheap plan | 500 | 500 | 0.5GB | $10/mo |