Best Red Pocket phone prices in August
Red Pocket iPhones
Red Pocket iPhone 12 prices
Device Specs
| | |
| --- | --- |
| Screen Size | 6.1" |
| Screen Resolution | 2532 x 1170 pixels |
| HDR Screen | Yes pixels |
| Processor | A14 Bionic Chip pixels |
| Internal Memory | 64GB, 128GB, 256GB |
| Operating System | iOS 14 |
| Back Camera | Dual 12MP |
| Front Camera | 12MP |
| HDR for Photos | HDR |
| Video Resolution | 4K, FHD, HD |
| Wireless Charging | Yes |
| | |
| --- | --- |
| Voice Commands | Yes |
| Talk Time | Up to 20 hours |
| Dimensions | 146.7 x 71.5 x 7.4mm |
| Weight | 164g |
| Splash Proof | IP68 |
| Water Resistant | Yes |
| WiFi & 4G Calling | Yes |
| GPS | Yes |
| SIM Card | nano |
| eSIM | Yes |
Pros & Cons
Pros
Attractive design

Fantastic audio quality

5G compatible

Amazing OLED display
Cons
No charger or headphones included

Battery life

Not much camera upgrade
Device Specs
| | |
| --- | --- |
| Screen Size | 6.1" |
| Screen Resolution | 2532 x 1170 pixels |
| HDR Screen | Yes pixels |
| Processor | A14 Bionic Chip pixels |
| Internal Memory | 128GB, 256GB, 512GB |
| Operating System | iOS 14 |
| Back Camera | 12MP |
| Front Camera | 12MP |
| HDR for Photos | HDR |
| Video Resolution | 4K, FHD, HD |
| Wireless Charging | Yes |
| | |
| --- | --- |
| Voice Commands | Yes |
| Dimensions | 146.7 x 71.5 x 7.4mm |
| Weight | 189g |
| Splash Proof | IP68 |
| Water Resistant | Yes |
| WiFi & 4G Calling | Yes |
| GPS | Yes |
| SIM Card | nano |
| eSIM | Yes |
Pros & Cons
Pros
Bright and colorful OLED display

Good photo quality

5G compatible

Good quality speakers

Attractive design
Cons
Shorter battery life than iPhone 11

No charger or headphones included
Device Specs
| | |
| --- | --- |
| Screen Size | 5.4" |
| Screen Resolution | 2340 x 1080 pixels |
| HDR Screen | Yes pixels |
| Processor | A14 Bionic Chip pixels |
| Internal Memory | 64GB, 128GB, 256GB |
| Operating System | iOS 14 |
| Back Camera | Dual 12MP |
| Front Camera | 12MP |
| HDR for Photos | HDR |
| Video Resolution | 4K, FHD, HD |
| Wireless Charging | Yes |
| | |
| --- | --- |
| Voice Commands | Yes |
| Dimensions | 131.5 x 64.2 x 7.4mm |
| Weight | 135g |
| Splash Proof | IP68 |
| Water Resistant | Yes |
| WiFi & 4G Calling | Yes |
| GPS | Yes |
| SIM Card | nano |
| eSIM | Yes |
Pros & Cons
Pros
Great compact size

Excellent camera

5G compatible

Brilliant OLED display
Device Specs
| | |
| --- | --- |
| Screen Size | 6.7" |
| Screen Resolution | 2778 x 1284 pixels |
| HDR Screen | Yes pixels |
| Processor | A14 Bionic Chip pixels |
| Internal Memory | 128GB, 256GB, 512GB |
| Operating System | iOS 14 |
| Back Camera | 12MP |
| Front Camera | 12MP |
| HDR for Photos | HDR |
| Video Resolution | 4K, FHD, HD |
| Wireless Charging | Yes |
| | |
| --- | --- |
| Voice Commands | Yes |
| Dimensions | 160.8 x 78.1 x 7.4mm |
| Weight | 228g |
| Splash Proof | IP68 |
| Water Resistant | Yes |
| WiFi & 4G Calling | Yes |
| GPS | Yes |
| SIM Card | nano |
| eSIM | Yes |
Pros & Cons
Pros
Durable and water resistant

Large OLED screen

5G compatible

Great battery life and fast charging

Photo and video quality
Cons
Expensive

Heavy

No charger or headphones
Red Pocket iPhone SE prices
Device Specs
| | |
| --- | --- |
| Screen Size | 4.7" |
| Screen Resolution | 1334 x 750 pixels |
| HDR Screen | Yes pixels |
| Processor | A13 Bionic pixels |
| Internal Memory | 64GB, 128GB, 256GB |
| Operating System | iOS 13 |
| Back Camera | 12MP |
| Front Camera | 7MP |
| HDR for Photos | Yes |
| Video Resolution | 4K, FHD, HD |
| Wireless Charging | Yes |
| | |
| --- | --- |
| Voice Commands | Yes |
| Talk Time | Up to 14 hours |
| Dimensions | 138.4 x 67.3 x 7.3mm |
| Weight | 148g |
| Splash Proof | IP67 |
| Water Resistant | Yes |
| WiFi & 4G Calling | Yes |
| GPS | Yes |
| SIM Card | Nano |
| eSIM | Yes |
Pros & Cons
Pros
Compact and lightweight

Water-resistant

Amazing A13 chip performance

Affordable price

Touch ID
Cons
Battery capacity

Night mode is missed

Only a 5W charger
Apple iPhone price comparison
| Model | Condition | Memory | Compatibility | Price |
| --- | --- | --- | --- | --- |
---
Red Pocket Samsung phones
Red Pocket Galaxy S10 prices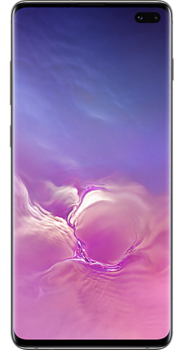 Network

AT&T
Storage

128GB
Condition

New
Price

$529*

* Save $250 in plan credits
Device Specs
| | |
| --- | --- |
| Screen Size | 6.1" |
| Screen Resolution | 3040 x 1440 pixels |
| HDR Screen | Yes pixels |
| Processor | Snapdragon 855 pixels |
| Internal Memory | 128GB, 512GB |
| Operating System | Android 9.0 (Pie) |
| Back Camera | 12MP, 12MP, 16MP (Triple) |
| Front Camera | 10MP |
| HDR for Photos | Yes |
| Video Resolution | 4K, FHD, HD |
| Wireless Charging | Yes |
| | |
| --- | --- |
| Voice Commands | Yes |
| Talk Time | Up to 34 hours |
| Standby Time | Up to 3.67 days |
| Dimensions | 149.9 x 70.4 x 7.8mm |
| Weight | 157 g |
| Splash Proof | IP68 |
| Water Resistant | Yes |
| WiFi & 4G Calling | Yes |
| GPS | Yes |
| SIM Card | Nano |
| eSIM | No |
| Model Number | SM-G973U |
| User Manual | |
Pros & Cons
Pros
Compact size

Amazing photo and video quality

Stunning display

Reverse wireless charging
Cons
Fingerprint reader accuracy

Average battery life

No auto focus on Ultra wide camera

Slow charging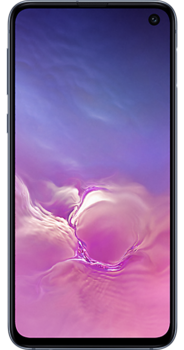 Network

AT&T
Storage

128GB
Condition

New
Price

$629*

* Save $250 in plan credits
Device Specs
| | |
| --- | --- |
| Screen Size | 6.4" |
| Screen Resolution | 3040 x 1440 pixels |
| HDR Screen | Yes pixels |
| Processor | Snapdragon 855 pixels |
| Internal Memory | 128GB, 512GB, 1TB |
| Operating System | Android 9.0 (Pie) |
| Back Camera | 12MP, 12MP, 16MP (Triple) |
| Front Camera | 10MP, 8MP (Dual) |
| HDR for Photos | Yes |
| Video Resolution | 4K, FHD, HD |
| Wireless Charging | Yes |
| | |
| --- | --- |
| Voice Commands | Yes |
| Talk Time | Up to 39 hours |
| Standby Time | Up to 4.17 days |
| Dimensions | 157.6 x 74.1 x 7.8mm |
| Weight | 175g |
| Splash Proof | IP68 |
| Water Resistant | Yes |
| WiFi & 4G Calling | Yes |
| GPS | Yes |
| SIM Card | Nano |
| eSIM | No |
| Model Number | SM-G975U |
| User Manual | |
Pros & Cons
Pros
Has a headphone jack

Reverse wireless charging

In screen fingerprint sensor

Amazing photo and video quality

Spectacular display
Cons
No autofocus on ultra-wide cam

Slow software update

Low light selfies

Night mode needs improvement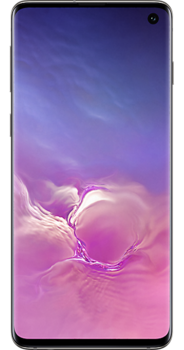 Network

AT&T
Storage

128GB
Condition

New
Price

$429*

* Save $250 in plan credits
Device Specs
| | |
| --- | --- |
| Screen Size | 5.8" |
| Screen Resolution | 2280 x 1080 pixels |
| HDR Screen | Yes pixels |
| Processor | Snapdragon 855 pixels |
| Internal Memory | 128GB, 256GB |
| Operating System | Android 9.0 (Pie) |
| Back Camera | 12MP, 16MP (Dual) |
| Front Camera | 10MP |
| HDR for Photos | Yes |
| Video Resolution | 4K, FHD, HD |
| Wireless Charging | Yes |
| | |
| --- | --- |
| Voice Commands | Yes |
| Talk Time | Up to 31 hours |
| Standby Time | Up to 3.33 days |
| Dimensions | 142.2 x 69.9 x 7.9mm |
| Weight | 150 g |
| Splash Proof | IP68 |
| Water Resistant | Yes |
| WiFi & 4G Calling | Yes |
| GPS | Yes |
| SIM Card | Nano |
| eSIM | No |
| Model Number | SM-G970U |
| User Manual | |
Pros & Cons
Pros
Compact size

Outstanding display

Amazing build quality

Good battery life
Cons
Fingerprint reader placement

Autofocus is needed on ultra-wide angle camera

Night mode needs improvement
Compare Samsung Galaxy prices
| Model | Condition | Memory | Compatibility | Price |
| --- | --- | --- | --- | --- |
---
Red Pocket cell phone plans
| Plan | Network | Minutes | Texts | Data | Price |
| --- | --- | --- | --- | --- | --- |
| | AT&T, Verizon & T-Mobile | Unltd | Unltd | 0.5GB | $10 |
| | AT&T, Verizon, T-Mobile & Sprint | Unltd | Unltd | 3GB | $20 |
| | AT&T, Verizon & T-Mobile | Unltd | Unltd | 10GB | $30 |
| | AT&T & T-Mobile | Unltd | Unltd | 22GB | $40 |
| | AT&T, Verizon & T-Mobile | Unltd | Unltd | 50GB | $50 |
AT&T vs Red Pocket Plan Comparison
Keep your AT&T phone, number & coverage: Save $660 per year
Carrier

Network Coverage

4G LTE Data

Price

Annual Cost

AT&T 4G LTE

Unltd*

$75/mo

$900/yr

AT&T 4G LTE

3GB

$20/mo

$240/yr

*Don't waste money on unlimited data - Avg. data usage is only 3-5GB
Savings
$55/mo
$660/yr
---
Red Pocket features
---
Red Pocket coverage
---
Red Pocket phones FAQs
Where can I buy a Red Pocket phone?
You can buy phones online directly from Red Pocket, check out some of the deals above. They offer great prices on the latest cell phones plus finance plans are available.
What phones work with Red Pocket?
Red Pocket operates on all of the major networks; AT&T, Verizon, and T-Mobile. This means that most phones are compatible. You can also check compatibility on the carrier's website directly.
What is Red Pocket Mobile?
As an MVNO - Mobile Virtual Network Operator - Red Pocket Mobile provides cell phones in a more affordable way. With low-cost plans and a cheaper way to own your cell phone outright.
---
Red Pocket Info
| | |
| --- | --- |
| Founded: | 2006 |
| Headquarters: | 2060-D Avenida De Los Arboles Ste 288 Thousand Oaks, CA 91362-1376 |
| Employees: | 51-200 |
| | |
| --- | --- |
| Customer Service: | (888) 993-3888 |
| Website: | |
| Facebook: | |
| Twitter: | |