Good2Go Mobile Customer Reviews
Is Good2Go Mobile any good?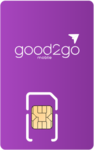 Read 34 Good2Go Mobile reviews
Terrible service
When there was a problem with my auto-renew credit card instead of contacting me they cut my messaging ability: I thought my phone was bad. There's a consistent problem with being unable to use data; photos will not load, cannot send photos, unrelated to the amount of data I use, which is near zero. Customer service is TERRIBLE: 20-30 minute wait, they never solve anything.
not at&t
they are advertised as running on at&t but are actually not. in reality, they use tmobile. you are given no choice as to what network you will use. they send you a tmobile sim by default. their customer service is poorly trained and no better than a bot
price not what is advertised
The deal is supposed to be $7.50 per month but when you go to check out, they add $1.56 in "surcharge & fees" without explaining what for. Including tax it becomes 9.68/moth. I assume that $1.56 charge will be on every month's statement. I have not used the service yet, so cannot say about quality.
Connection stinks, and texting and calling problem
i Have goodtogo but not happy with my experience.
Reliability, affordability, coverage
Reliable service, affordable for me, and as good a coverage as AT&T.
Budget-friendly
Great plans for those who are looking for a budget-friendly alternative. Service is great. No downsides whatsoever.
Customer representatives, great deal
Is a pretty good deal. Customer service is pretty responsive over the phone and email. Data is unlimited but when throttled it is really slow (as expected).
Cheap, great coverage
Very cheap for what it is. You get unlimited talk and text and your choice of high speed data. If you run out of the high speed data you'll get throttled but the data is still usable. There's no overage fees too. Very cheap for AT&T coverage.
Doesn't work for traveling
It isn't good for travelers. You won't have a problem though otherwise so long as you live or travel near AT&T towers.
Saves money
I'm saving lots of money by going Good2Go. It's good for those who don't use their cell phone very much.
---
Good2Go Mobile Q&As
What is Good2Go Mobile?
Good2Go Mobile is a Mobile Virtual Network Operator (MVNO). Offering prepaid cell phone plans, this low-cost carrier could save you up to $600 a year on your phone bill.
What network does Good2Go Mobile use?
Good2Go Mobile operates on the AT&T and T-Mobile network.
Does Good2Go Mobile have good coverage?
Powered by AT&T and T-Mobile, Good2Go Mobile offers coverage where T-Mobile and AT&T coverage is available.
Does Good2Go Mobile have 5G?
Yes, Good2Go Mobile offers 5G at no extra cost, if you have a 5G compatible device.
How good is Good2Go Mobile?
Good2Go Mobile offers a good selection of affordable plans if you don't need a lot of data.
Where can I buy Good2Go Mobile SIM card?
You can choose your Good2Go Mobile SIM card plan online.
What phones are compatible with Good2Go Mobile?
Most unlocked GSM cell phones will work with Good2Go Mobile.
Is Good2Go Mobile GSM or CDMA?
Good2Go Mobile works on the GSM network.
How much is Good2Go Mobile?
Prices for Good2Go Mobile range from around $10 up to $50 a month.
Is Good2Go Mobile worth it?
As an MVNO, Good2Go Mobile could save you hundreds of dollars a year, but the best will be different for everyone. If you're looking to save money and have T-Mobile or AT&T coverage in your area their plans could be worth checking out.
---
About Good2Go Mobile
| | |
| --- | --- |
| Founded | 2016 |
| Headquarters | Dallas, Texas |
| Employees | |
| Customer service | (800) 416-3003 |