US Mobile Customer Reviews
Is US Mobile any good?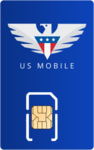 Read 76 US Mobile reviews
Calls drop
I was using MINT and I switched to US Mobile but phone calls started to drop. I called them and they advised to install some third party files into my iphone 12 (brand new phone) !!!
Reasonably priced
It's a solid network, which is unsurprising since it runs on Verizon's network. But it's at a better price. You can also customize your plans, which is a big plus.
Fits my needs like a glove
You can't beat the price for the customizability. Service is 99% very good and the you get high data speeds.
Recommended
simple to set up account and activate sim card. no problems with US Mobile
Flexible af
Plans are super customizable. It's also very easy to activate the phone line. Coverage is great too. Very happy with US Mobile.
Not too bad
I purchased a US Mobile plan for my son and he likes how he can watch youtube without buffering problems.
So worth it
I've swapped my family to US Mobile and it feels so GOOD to be saving so much. I'm not kidding when I say that we cut our phone bill in half. The process to activate and port your number over is easy too.
Unreliable
I wanted to like this service. It's cheap and the customer service is as helpful as they can be. It supposedly had service in my area but I get poor signal here. I don't receive every call before it gets sent to voicemail and conversations get dropped. It's been nothing but a nightmare.
So great!
I have nothing bad to say about this service. I thought because of the price it would be at best a mediocre service but I was proven wrong! There's nothing different from my AT&T service. How these guys manage to charge so little is beyond me!
Quality service for cheap!
Very cheap plan that offers the same quality as anywhere else! I would recommend this service to everyone reading this!
---
US Mobile Q&As
What is US Mobile?
US Mobile is a low-cost wireless service. Known as an MVNO (Mobile Virtual Network Operator) you could save up to $600 a year on your cell phone bill, without compromising quality.
What network does US Mobile use?
US Mobile operates on both the Verizon and T-Mobile networks.
Does US Mobile have good coverage?
Powered by the main T-Mobile and Verizon networks, you'll have coverage where Verizon and T-Mobile are available.
Does US Mobile have 5G?
Yes, you can get access to the 5G network at no extra cost with US Mobile, with a 5G compatible device.
How good is US Mobile?
As an MVNO, US Mobile's plans offer affordable options on the Verizon or T-Mobile network.
Where can I buy US Mobile SIM card?
You can purchase a US Mobile SIM starter kit online in a few simple steps.
What phones are compatible with US Mobile?
You can check your IMEI number, but most modern mobile phones are compatible with US Mobile.
Is US Mobile GSM or CDMA?
US Mobile works on both the CDMA and GSM networks.
How much is US Mobile?
Their basic plans start from around $8 up to $45 a month.
Is US Mobile worth it?
As an MVNO, US Mobile could save you hundreds of dollars on your cell phone bill. If you're looking for a new cell phone plan on the Verizon or T-Mobile network it could be worth checking out their plans.
---
About US Mobile
| | |
| --- | --- |
| Founded | 2014 |
| Headquarters | 50 Main Street, White Plains, NY 10606 |
| Employees | 50 |
| Customer service | (878) 205-0088 |