Text Wireless Customer Reviews
Is Total by Verizon any good?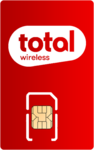 Customer Reviews
1.6
31 Total by Verizon reviews
Read 31 Total by Verizon reviews
Total by Verizon is having dropped calls
Total by Verizon is having issues with their network dropping calls. Customer service is unqualified and poorly, trained and in adequate at handling service issues. They are all a bunch of automatons doing the same nonsensical supersecret procedures that do nothing other than placate their customers, while pretending that they're actually implementing a fix. They are also unable to engage in legitimate conversation they are trying to say I'm sorry while doing nothing.
problem-solving skills are nonexistent.
You might as well have a conversation with an imaginary friend for all the good I will do calling customer service.
Had bad customer service.
They weren't listening to my issue and just repeating the same information. Also one rep hung up on me and were overall very unhelpful.
Horrible Customer Support
Signed up with TBV and was given my new number, yippee! Two days later number was ported back to previous owner along with my account and all info attached to it. Spent 5 days with support trying to get matters resolved but as my account info was no longer mine, there was no way to authenticate account. No service, no new number, no account, no dice. I had to report my credit card stolen, lost my phone number, TBV account and service as well. Lastly, I was unable to get a refund due to the fact TBV could not authenticate my account. Purchased plan/account on a Thursday and Sunday morning everything was gone. Spent many, many hours with limited English speaking support agents reading me the same tired we can't verify, so we can't help you response. "I'm so sorry" and "I apologize" should be the TBV new motto, these phrases started and ended each conversation I had with TBV support. Customer service is just another casualty of the Covid pandemic, welcome to we don't care, next! customer support, brought to you by some south east Asian call center with a limited grasp of the English language.
Pathetic!
Will the REAL Total wireless please stand up?
After a very good nearly 7 years as a Total Wireless customer, I will now be switching to another network. Customer service is ridiculous. My data keeps stopping. I had data plans expecting that I ran out and they never get applied to the account. With the included data and data add on plans I have purchased, I should be at 30 gb data I had available this month. Data is no longer working yet Total by Verizon shows my data used balance at 15 gb. After purchasing data plans, I end up with no less than 2 hours on the phone with customer service personal that seems to follow 1 script, no matter what you say and refuse to escalate matters to management or IT. Either Verizon big time failed on preparing system updates for the change over or they think thievery is good for their bottom line. Stupid on both accounts if your customer service team isn't trained to handle these type of calls or don't understand rudimentary English enough to process these tech requests. Thumbs down Verizon. Thanks for reminding me why I left Verizon contract service to begin with.
Customer service? Hah!
They charged me $60 for one line when I removed one of two, then charged me $25 to send a NTP and it didn't work, even when the new provider help desk interceded to get it done.
Don't go to Total by Verizon please save yourself
I talked to so many different people who could not fix the phone and made it worse
They are horrible
Verizon ruined total wireless, I'm switching companies and I will also be switching my wifi cable services to spectrum because verizon is run by scumbags!
Verizon ruined it
Total Wireless was awesome, great customer service, great prices, and pretty good service/coverage. Since they rebranded to total by verizon, their customer service is incompetent at best. I stuck it out as long as I could because I loved total. However, what was supposed to be a simple disconnect from a lost phone and reconnect a new phone, turned into a 3 day nightmare dealing with customer service and lost service for all 3 phones (including the phone my husband needs for work) on my plan with no explanation. They "escalated" the problem, but are telling me I am going to be without the service I've paid for, for another 24hrs. One agent outright lied to me "you're phone will work in 30 minutes....goodbye". Two agents, just up and disconected chat with no warning as I was actively typing/chatting with them. Another agent completely disconnected all of my phones from service while I was on the phone with them, effectively ending that conversation. I requested a code to transfer my numbers to another service and I seem to have been ghosted.
This is the worst customer service ever!
You will spend hours on the phone with this company and not get your problem fixed. Their customer service says they are transferring you over and over and over.
All you will do is explain your issue to 6 or 7 different people and then they will hang up on you.
Customer serives sucks!!!!
I tried porting my phone number from Verizon. I waited my 24 hours before calling them back. They claimed that I provided the wrong account number. I verified my account number by Verizon and I did give Total the correct account number. They are LIARS!!! You can not port your number. You HAVE to get a new number whether or not you want one.
---
About Total Wireless
| | |
| --- | --- |
| Founded | 2015 |
| Headquarters | 9700 NW 112th Ave, Medley, FL 33178-1353 |
| Employees | Nov-50 |
| Customer service | (866) 663-3633 |