Twigby Customer Reviews
Is Twigby any good?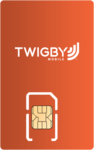 Read 57 Twigby reviews
Same as verizon but a lot cheaper
With a growing family, I was not ready to be locked into a contract. They did not make me sign a contract, no need for on size fits all plans. Each of my kids have what I think they need and we get the best network. Was cheaper than other Verizon resellers too.
They have great customer service
I have had Twigby for about 2 years or more now. I believe they have very good customer service. Their online chat usually has pretty fast responds and do really try to resolve your issues. My only issue is that they don't have coverage outside the U.S. I have not had any problems with coverage in PA.
Bad company
They were ok until I needed costumer service, by the way only way to communicate with them is through chat online only! No # to call "real pain". Bought two phones when I first switch to them, not even a year old, they switch networks and said my phones were no longer compatible had to buy two more or I will no longer have service bought two more one did not work, they charge me $30 to exchange the phone $7 for shipping $11 to return the phone that did not work and they charge me the price of the new phone till they can inspect the phone for damage. Then I found an extra charge on my bank statement for $44 they said they have no record of it so there is nothing they can do about it. I told them I will file a fraudulent charge with my bank they said if I do they will turn the service off till they can investigate and they will charge me $30 for it. Read their policies before you switch to their service (unreal!) I had enough went to switch my service to another carrier, try to port my #'s should have taken a few min. To do, but not with them it took 4 days/hours every day going back and forth with them, they gave me a different excuse every time, Filed a complaint with FCC they finally ported my numbers.
What a nightmare of a company to deal with.
Excellent company
Twigby's terrific. Have flexible plans and customer service is A++++
Favorable rating
The customer service reps are really nice to work. Connection is always strong. My only gripe is that data slows down at certain parts of the day.
Great coverage and service
SIM card came in earlier than expected. Their plans are affordable and it was super easy to transfer from my old carrier.
Reliable and affordable
Very reliable with flexible and affordable plans. Service is friendly.
Blowing the competition out of the water
I've used Twigby's service for a few years and I still think it's the best network for reliability and customer service. No one else has better rates and online chat is always willing to help you and they're prompt too.
Has plenty going for it
Been with Twigby for a good while. In my experience, customer support is knowledgeable and willing to help until my issues were resolved. Prices are great and my cellular connection is always stable. I will be sticking with Twigby for years to come.
---
Twigby Q&As
What is Twigby?
Twigby is a low-cost carrier, also known as an MVNO, offering prepaid cell phone plans. They could save you up to $600 a year on your bill, without sacrificing quality features or coverage.
What network does Twigby use?
Twigby is powered by the Verizon network.
Does Twigby have good coverage?
Operating on the Verizon network, Twigby has coverage where Verizon is available.
Does Twigby have 5G?
Twigby offers 5G at no extra cost if you have a 5G compatible device.
How good is Twigby?
Twigby is a budget-friendly option with customizable options.
Where can I buy Twigby SIM card?
You can choose your Twigby SIM card kit online and it's delivered straight to your door.
What phones are compatible with Twigby?
Twigby is compatible with most unlocked CDMA cell phones.
Is Twigby GSM or CDMA?
Twigby uses the CDMA network.
How much is Twigby?
Starting from as little as $7 a month ranging up to around $18 a month, depending on current offers.
Is Twigby worth it?
Twigby offers affordable plans on the Verizon network, that are easily customizable. If you want to save money without losing quality, then Twigby's plans could be worth checking out.
---
About Twigby
| | |
| --- | --- |
| Founded | 2014 |
| Headquarters | 1418 Kensington Square Court Building A Murfreesboro, TN 37130 |
| Employees | 201-500 |
| Customer service | Online Chat Only |