Boost Mobile Customer Reviews
Is Boost Mobile any good?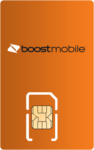 Read 134 Boost Mobile reviews
Fast shipping. A++++
Bought a prepaid card. Shipped really fast and easy to activate. Took me 10 min.
Rude customer service reps, doesn't even work
It doesn't work. I used Boost before with no problems but when I tried to come back to it with a new sim and everything the sim didn't accept my phone. I tried talking to customer support by the person handling my case was rude and nasty toward me. I don't know if they were having a bad day or not, all I know is that boost sucks.
A good value.
Cheap and reliable. Good service for the money.
Excellent product
It's a great product. I had problems with activation but they've guided me through the process, 1 step at a time. Just make sure your phone is unlocked! If you're able to, get a Boost prepaid card when it's $15 because you'll get 5GB for that amount. And it supports 5G! You're welcome!
My phone can't activate it.
Not worth it. Can't activate. Don't buy it unless you want to waste money.
An excellent carrier now
I used to use Boost but then they became too expensive compared to its competitors. I tried them again after hearing they've revamped their branding. Service is a leap in improvement since I've left. The network is much faster with 5G support. It's still very affordable making it an extremely valuable service.
Fast network at a good deal!
It's a good deal! Fast network witth excellent coverage.
Budget friendly carrier
Great carrier, ez to set up took 15 min. A good plan for when your on a budget.
Nice features for the price
Great value for the price.
Affordable
No strings attached. Set up is a little hard but customer service is always willing to help.
---
Boost Mobile Q&As
What is Boost Mobile?
Boost Mobile is an MVNO (also known as a Mobile Virtual Network Operator). They offer low-cost plans with quality coverage by operating on the same major US networks. They can save you up to $600 on your cell phone bill without compromising quality.
What network does Boost Mobile use?
Boost Mobile is powered by the AT&T and T-Mobile network.
Does Boost Mobile have good coverage?
Operating on the same AT&T and T-Mobile network, Boost Mobile provides coverage in areas where T-Mobile and AT&T are available.
Does Boost Mobile have 5G?
Yes, Boost Mobile offers 5G at no extra cost, if you have a 5G compatible device.
How good is Boost Mobile?
Boost Mobile offers great value for money with a range of perks.
Where can I buy a Boost Mobile SIM card?
You can easily get a Boost Mobile SIM card kit online and it's delivered straight to your door.
What phones are compatible with Boost Mobile?
Most new phones will work with Boost Mobile as long as they're unlocked.
Is Boost Mobile GSM or CDMA?
Boost Mobile works on the GSM network.
How much is Boost Mobile?
If you're willing to commit to Boost Mobile, plans start at around $8 a month or $15 up to $50 a month for prepaid plans.
Is Boost Mobile worth it?
As a low-cost carrier, Boost Mobile could save you hundreds of dollars a year, but the best will be different for everyone. If you're looking to save money and have AT&T or T-Mobile coverage in your area their plans could be worth checking out.
---
About Boost Mobile
| | |
| --- | --- |
| Founded | 2001 |
| Headquarters | 6591 Irvine Center Drive, Suite 100, Irvine, CA 92618 |
| Employees | 201-500 |
| Customer service | (866) 402-7366 |