Reach Mobile Customer Reviews
Is Reach Mobile any good?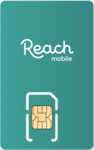 Read 32 Reach Mobile reviews
Very friendly and helpful support
My mom recommended me Reach Mobile since I was looking for a new carrier. Gave it a try and so far I'm very satisifed. Customer support is very friendly. The data service (most important) is great. I just wish plans would be a little cheaper.
Setting the bar for customer service.
I've used Reach's customer service line 2 times: when I had a connection issue and when I had an issue paying my phone bill. Support shows how much they really care by listening to my issue and staying on the line until that issue is fixed. Amazing service!
Accessibility = perfect
Switching to Reach is easy to do. Great customer service, affordable plans, and wide coverage. All around a great carrier that I highly recommend.
Great coverage, great cause.
Perfect alternative to the major providers. Pricing is fair and customer service is staffed with real people who want you to have a good experience. I'm saving at least $10 extra every month with their best fit discount because we don't use all our data. It's also nice they give a portion of proceeds to help others. Overall, very happy we switched!!
Best Verizon Network MVNO & Customer Service
Switching to Reach was very much easier, I'm getting the same reception I was getting earlier under Verizon.
Best ever operator in verizon's network
Same data speed as Verizon and very cheap
Helpful
Helping seems to be the core of Reach Mobile because they go out of their way to make customers happy. Whenever I had issues they would quickly respond and help me out. I love Reach!
Customer support
Reach is the best carrier I've ever had! I'm getting quality service for $100s less then what the big providers are charging. It makes a huge difference to save $100s every year.
Customer service, cost
So happy to have switched to Reach! I'm saving so much money and their customer service is so much better than AT&T's!
Not a good value
Reach has been unreliable for a little while now. It's just not worth keeping the service.
---
Reach Mobile Q&As
What is Reach Mobile?
As an MVNO (Mobile Virtual Network Operator), Reach Mobile can save you money on your cell phone bill. One big difference is that they partner with charitable organizations to help women and students in need stay connected.
What network does Reach Mobile use?
Recently moving from Verizon, Reach Mobile is now powered by T-Mobile.
Does Reach Mobile have good coverage?
Operating on the T-Mobile network, Reach Mobile offers coverage where T-Mobile is available.
Does Reach Mobile have 5G?
Yes, Reach Mobile offers 5G at no extra cost if you've got a 5G compatible device.
How good is Reach Mobile?
Reach Mobile can save you money on your phone bill without sacrificing quality.
Where can I buy Reach Mobile SIM card?
It's easy to purchase your Reach Mobile SIM card online and have it sent straight to your door.
What phones are compatible with Reach Mobile?
Most modern unlocked cell phones are compatible with Reach Mobile.
Is Reach Mobile GSM or CDMA?
Reach Mobile uses the GSM network.
How much is Reach Mobile?
You can find affordable plans ranging from around $10 up to $35 a month.
Is Reach Mobile worth it?
Reach Mobile plans can save you hundreds of dollars a year on your cell phone bill. If you're looking to help make a social impact and don't need a lot of data, their plans could be worth checking out.
---
About Reach Mobile
| | |
| --- | --- |
| Founded | 2018 |
| Headquarters | 285 Billerica Rd, Ste 203, Chelmsford, MA 01824 |
| Employees | Nov-50 |
| Customer service | (844) 445-3665 |