Kroger Wireless reviews: 30 customer service reviews
Kroger Wireless customer reviews & complaints in 2023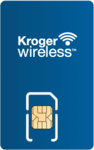 Customer Reviews
2
30 Kroger Wireless reviews
Is Kroger Wireless good?
Kroger Wireless has an average rating of 2 stars from 30 reviews, indicating most customers are dissatisfied with this carrier. Kroger Wireless ranks 19th out of 28 cell phone carriers reviewed on MoneySavingPro.
I would give less than 1 star if possible
The mobile hot spot did not work at all. No data unless I was connected to my home network. Customer Service was of no help at all. DO NOT USE THIS SERVICE!!!
Absolutely no data
I have unlimited data and I have never once used my data. Why? Because it is completely unavailable. If I'm outside of a one mile radius from my wifi, goodbye service and text messages. I've been in legitimately scary situations because I didn't have wifi and my data wouldn't work so I couldn't pull up Google maps and was stranded!! Seriously if you want any type of internet service at ALL away from wifi, do not get this plan.
Don't get their service it is not reliable
First the phone I got with service from them was useless and a waste of time then I got a new phone one of the best out there and was alright then when my data hit 20 gb I wouldn't have service for most of the day at I guess peak time for cell phone usage and would have it for a fews hours when I did t need it couldn't send messages that had a photo they would tell me that my phone had to be sent the update and that would solve it. Wrong it did nothing at all then I couldn't liste…n to my voice mail messages for many many weeks was told if I reset my passcode it would remove all the messages and that if it asks for a passcode then I had to set it well came to find out that it could be rest without deleting my messages and also that it did indeed had a passcode that they set. It just isn't worth the agravation of going day after day not knowing when you will have service and then have to find a wifi signal that is free. I will go back to my original company simple mobile
It was a good service till now
My phone started breaking and the service was changing to 145 sheets so I had to go get a new phone we go to the store to buy a phone we buy the phone we go home try to set it up and it doesn't work because it's not compatible so they're still selling phones that in the stores that aren't compatible with the network
the worst you can imagine
took money no service can't contact
Service was shut down due to change to T-mobile
Phone was shut off due to change over to SPrint. Called customer no-service and told that a new phone will be sent at no charge. Problem is that it is going to take over a week to get. NO PHONE service for over a week. This seems poor business practice to shut phone down before new one is sent.
They shut off your service weeks before switchover
Service disconnects, rude call agents
Its good till it isn't
Been a customer since 2008. Had no real issues. Except so many foreigners with heavy accents in customer phone service. May 2021 I orderd the new LG K20. Took 2 wks to activate because they didnt know how to. Once activated It wasn't functioning properly. They sent me a defective phone. Now its march 17th 2022 I have been trying to get ahold of someone anyone all these months to resolve this issue. Finally someone one just responded last wk. They want me to send it back. Yet they don't… supply return labels. Surely they don't think Im paying to have it shipped? So Im called the ATG and having them do a informal resolution and see if they can get this done correctly! Definitely trash company. I do see the light now! Screw kroger
Won't answer, won't reply!
I have been with iwireless since 2009, I was one of their longest-standing customers. I was sooooooo disappointed when I could not get their system to activate my phone that I bought FROM THEM for THEIR SERVICE!!! I am now going to get charged a 20% restocking fee for their inability to perform? What kind of crap is this? They have not replied to several emails that were sent directly to their customer support line. I am very sad to leave this cheap cell phone plan, but am delighted so far… with the service at VERIZON WIRELESS and hope it continues.
Will not answer customer service phone
Will not answer customer phone left me with no service no one to even explaiñ to me what to do
Repair tries but
I bought a $400 5G Samsung on the Kroger site to use ON Kroger Wireless. The Phone does not connect to the providers system. Repair usually tried to fix, but always ended with call sales to return the phone. Long story short, jumped through many hoops, even left multiple VM's with product manager. Sent the phone to the "sales" department for a replacement. they sent the phone back to me without any comment of fix. They sales is really a fulfillment contractor that closes wheneve…r they feel like it. We have had Kroger [i] Wireless for about 8 years. I can't envision poorer service. FYI my wife's 5G S20 works fine. I have to find a valid quality service.
Not perfect but pretty good value
Have had good luck with phone card plan and Samsung phones since 2013. Service has been practically free with kroger points. Will see if newer smartphone still functions well. Never had problem with technical support. Latest deal is 3 month plan for $45
Needs a massive amount of Improvement!!!
At times their representatives seem to be reasonable, although other times kroger wireless has terribly extraordinary horrible customer interactions with epic rudeness
Needs a whole lot of improvement
From my experience kroger wireless representatives have various ways to respond, sometimes they seem possibly reasonable and other times to say they have extraordinary poor communication skills and extraordinarily poor social interpersonal customer service skills compared to other companies is to especially say the least. I have been a very happy customer of Consumer Wireless and Net 10. I would recommend anyone not to get a kroger wireless phone, this phone company is very deficient in self r…espect.
Glitchy
The design was pretty nice, but the phone display was very glitchy. When I would be trying to call my family, the phone wouldn't let me do anything. So... Yeah. When I tried bringing this up with Kroger customer service, the girl who was on the phone was pretty nice, but not very helpful. I was still able to use the phone after a while, but it didn't last long. Overall, it was three stars. Not the best phone service or help. Wasn't the worst either. Would recommend if you are look…ing for a temporary cell phone, but not for long-term. For long-term I recommend an Iphone 10XR.
Easy to get started.... hard to get help
When my iphone was damaged, I purchased a phone from Kroger. The website referred me to their customer service number to activate, but they could not resolve the problem. They sent me to the overall Kroger customer service number, which mainly deals with grocery items. I finally purchased a new phone from a different company and now cannot port my number. I'm out my payment for service this month, the cost of two phones, and my old phone number. Never again!!!
Customer Service is operated from HELL !!!
Before the stupid A** COMPANY did the buy out which no customer were informed of. I had over $100 in my account as payment credit. I lost it all.
No customer service
I bought a Samsung A20 off their website, but the phone cannot be activated because it isn't compatible with their network. Called and they said the issue would be resolved in 24 hours. 3 days later and nothing. I called again and they said they had no record of my call. Still waiting and still no phone activation.
It's a colossal piece of fuckin' excrement.
It doesn't but perhaps 20% of the time even load chrome, and when it does, it takes ten minutes to do whatever other phone takes 4 seconds (no hyperbole). It's such a piece of garbage that I find myself wanting to snap it every hour of the day. I fuckin' hate Kroger now for ripping me the Fuck off when I could have gotten a better phone for less money. Go figure, Fuck them like royally!
care support team (tech) these guys are AWESOME
I purchased a phone back in may of this year, went home added minutes. Complete all updates sim cards showed to be locked. Call customer service had to wait 7 days for a PUK# then customer service told me I had a New number. Got feed up put the phone in my desk. It stayed there for 2 months. My mother in law birthday was coming up she's 70 and all alone. Thinking that this would be a nice gift. So I start working on this on a Friday. And my Monday the care support team got the phon…e up and running. And I got my mother in law texting now. And she has discovered Pinterest. So I'm giving them a 5 stars. And I must say completing this task was done though email and text. :)
---
Kroger Wireless guides
About Kroger Wireless
| | |
| --- | --- |
| Founded | 2005 (as i-wireless) |
| Headquarters | 1 Levee Way Suite 3104. Newport KY 41071 |
| Employees | 11-50 |
| Customer service | (866) 434-7796 |
Best cell phone carriers in 2023
Best Kroger Wireless alternatives
Calculate Your Savings
How much could you save by switching carrier?