Metro by T-Mobile reviews: 55 customer service reviews
Metro by T-Mobile customer reviews & complaints in 2023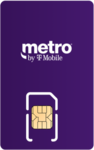 Customer Reviews
2.1
55 Metro by T-Mobile reviews
Is Metro by T-Mobile good?
Metro by T-Mobile has an average rating of 2.1 stars from 55 reviews, indicating most customers are dissatisfied with this carrier. Metro by T-Mobile ranks 18th out of 28 cell phone carriers reviewed on MoneySavingPro.
the guy name austin down in sebring, Fl
This guy was wonderful he was so nice and helpful
Bad business
I requested a replacement phone through my ins because my phone was broken, instead, the agent sign me up for a second line that I did not ask for. I never activated the phone, I called them and let them know the agent made a mistake. They claim that they would have to activate the phone from their end before they could refund the money that I thought was my copay for my insurance deductible. I finally got the replacement phone, which still cost me a deductible, still have not got the money back… for the first mistake, and when they sent me the replacement phone, I didn't even get a charger with it. Their customer service on the phone is rude and has to know clue as to what they are doing. I am really thinking of leaving and the money I didn't get back I may just have to count it as as lost, I don't feel like dealing with this issue anymore. I have been with them for at least 9 years. this is bad business.
Great Phone, so so connection
The phone deal was great, reception is good but spotty in Arizona, only had one problem with customer service, only a corporate store could help me. Overall I would recommend Metro by T Mobile. Most people are the cause problems with their phones, mine looks brand new and works fine.
The store in Apple Valley,CA...has great customer.
The customer service at the Apple Valley store has great customer service... employees went beyond to assist...very informative and patient management helpful all in
Poor service
I've been with Metro since 2006 for the past few months they have poor customer service together with their insurance company which makes you wait 48 hours to provide you with additional phone if your phone was stolen or broken I feel ripped off very disappointed
worst company ever. zero stars!!!
I have been trying to redeem an offer since 4.13.23. I have called metro at least 7 times. Worst company ever. NO resolution so far!!!
pairing incompetence and a scam
Paid for 'FREE' cellphone with prepaid unlimited service, received broken phone that not hold the charge, only make two calls before I start return process. Never get neither replaced phone or refund for unused service (not by my fault BTW). Customer service just replied with some messages that they are still reviewing the problem (4 months for now)
If I could put a negative star I would!
On 4/15 my debit card was charged without my consent and my account was changed to auto pay. Which I also did not authorize. I called and was given an apology and was told my money would be refunded. That was 4/15. I called customer service again on 4/16 was told it would take 3 to 5 business days. Called again 4/25 was told it was refunded and I should check my bank. Called again 5/1 was told again to call my bank. Called bank only record they have is them taking money out 4/15. I called them a…gain non English speaking person kept referring to me as a man after I corrected her 5 times. I finally yold her I would be filing a dispute with my bank and hung up on her. I am seriously considering closing my account.
mix of an incompetence and a scam
Overcharged me 3 times, signed me up for the wrong deal, refused to provide info, took me an effort to get some of the money back. Still scaring me to not release my own phone number. Stay away ...
Puts up roadblocks so you cannot get help.
My low functioning poor elderly brother has been sold products he does not want or understand. This company will not help him. I have tried from across the country. There are walls set up so you can not get help, I have spoken to many employees with wildly different advice. I will be moving him to be near me soon , but in the mean time we are stuck with this sucky company. RUN AWAY!!
Worst service ever. I would give it zero stars
I bought the service plan for $60 a month with hotspot. I found myself using the company hotspot just to get access to my email. I complained and they offered to reduce my plan to $40 a month. Sad thing about that is even on the $60 a month plan when I send a text with a picture the text would go through but the picture kept saing resend. Thats very poor service and the map is a lie because even in Houston, TX where its suposedly 5G its trash. Most unreliable company ever. Dont throw your money …away. I went with Mint and wow better service for $25 a month? That's insane. T-Mobile you blow chunks!!!! Worst experience ever!!!!
T-Mobile has the very best employee's in Portland
I had to go to Metro PCS on February 5th, 2023 to the Halsey Store in Portland, since my phone wasn't working at all. I encountered an extremely efficient employee by the name of Cristina. Cristina was amazing. She worked so hard to bring my phone back to normal again. I was so impressed with Cristina. I rated Cristina 10+. And, yes Cristina did deserve 10+. She worked so hard to help me. I have been with Metro for 10 years, and I have always been impressed with Metro PCS employees. And Cr…istina was very kind, patient, and knowledgeable. I knew that I was in good hands with Cristina. She made me very happy. And, I will always tell all family, friends, and acquaintances about Metro PCS, and the awesome lady---Cristina. Thank you so much Cristina & Metro PCS. You are truly the very BEST.
Disabled, 63 yrs of age.
Been to metro store 8 times in the last 2 weeks, on the phone with them 6 times. I was promised a free Samsung. They sent me a phone I couldn't activate and was charged. Today I'll be back to the store to try and activate. Will look for different provider after 7 yrs. I loved metro once merged with T-Mobile it's been a nightmare.
Slow slow upload speeds In Citrus County Florida
Always throttling your speeds towards the end of the month to were you have to keep restarting your phones to get a bit better speeds. Tonight's test (download kbps speed 0. Upload kbps speed 0. latency 715.) Horrible useless internet. 2 nd test after restarting the phone download kbps speed 715. Upload kbps speed 5. Latency 118. Better but still not 4LTE. 2 bars. I have towers all around our home and business. It's T-Mobile Metros game
Ruby at Metro by T-Mobile is the best
Ruby is the best representative I had to deal with since I moved to Florida a year ago. She was very patient and help me to understand all my enquires. I got a modem too and she sets it up. Walk me through all the steps to ensure that I understand what to do when I get home. She went above and beyond today to ensure that I was satisfied 100%. If you go to Metro at Lehigh Town Centre, Homestead Road you better ask for her by name. Thank you for all you do, Ruby.
They will not refund a phone even if it is broken
I bought a phone from Metro but when I got home and tried to charge it the phone would not charge. So I took it back and they could not get it to charge either. They would only call the insurance company for me and thats it. They said all sales are final.So now it won't have a phone for a week after just buying one from Metro byT-mobile.
I stopped in at the Metro store at 6947 Gall Blvd
The sales person Eva was great, I told her what I was looking for and she set me up with a great phone quick. Love my new phone
Metro by T-Mobil is the best never had any Issue
I love Metro By T-Mobile I had left metro and went to Xfinity for about 5 months big mistake I just came back to Metro on 4/8/22 I had been with Metro for about 3 or 4 years before I left, I will not be leaving ever again
Throttling after 35 GB makes it unusable
It does use t-mobile network, but the unlimited data is strictly limited by throttling to the extremely slow 3G uplink speed after 35 GB. I might go back to t-mobile because even with the $30 discount from the Affordable Connectivity Program, I can't stand the slow speed.
They lied to me since day 1
I switched to Metro by T-Mobile back in July 2021. They sold me on a plan that apparently does not exist. I was told that my plan included 4 lines for $30 a month each and each line had access to Google 1, Amazon Prime and 15 gigs of high speed hotspot, for a total of $120 a month. Then they sold me on their "monthly autopay discount" of $5 per line, making my monthly bill $100! So heck yeah! I signed up for that as well. **Nobody ever mentioned it was only available on select plans** …I have called every month because I receive 2 text messages, one stating my amount due before the autopay discount is $120 and one saying "thank you for your payment of $120." Where is the discount for auto pay? I have spoken to some really amazing customer service reps and a couple managers, however nobody has fixed the problem.. (Today March 8th 2022) I spoke with a CSR, her manager and his manager as well. She was friendly and transferred me as soon as she realized she couldn't fix it. Her manager was also polite as he explained that Metro by T-Mobile has misled me this entire time. His manager also took my call and was equally friendly. I'll give it to 'em, their Customer service has been friendly even when I am not so friendly. However, they have all lied to me, or the 2 I spoke to today are lying to me.. Either way, I'll be switching my service back to my previous carrier. I do not appreciate the employees of Metro by T-Mobile misrepresenting their services. Get it together over there guys! Let the authorized dealers know the specifics so they can properly represent your company or educate the Customer services management know. Either way, they have conflicting information..
---
Metro by T-Mobile guides
About Metro by T-Mobile
| | |
| --- | --- |
| Founded | 1994 |
| Headquarters | 2250 Lakeside Blvd Richardson, TX 75082 |
| Employees | 1,001-5,000 |
| Customer service | (888) 863-8768 |
Best cell phone carriers in 2023
Best Metro by T-Mobile alternatives
Calculate Your Savings
How much could you save by switching carrier?