Red Pocket Mobile Reviews: Customer ratings & complaints
Is Red Pocket Mobile any good?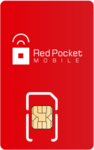 Customer Reviews
2.8
142 Red Pocket reviews
Read [NUM_USER_customer ratings] Red Pocket customer service reviews
Good service, terrible customer service
Firstly, a HUGE thank you to Tina, the young lady in India who,after over 6 (SIX) hours on the phone with several different customer service agents, figured out the issue with our Red Pocket service.
We had just decided to give up our family's transfer to RP and return to Verizon, due to hours and hours of disinterested, borderline rude customer service representatives making us repeat the same tests over and over again, when I was put through to Tina, who resolved the issue within 5 minutes.
Tina was polite and efficient, apologised and actually listened regarding all the failed tests we had already tried, thereby finding out it was a simple billing mistake/glitch that had caused our text message service to be cut out of the blue.
Promote that woman! Give her a pay rise! Exceptional service from this one agent - thank you Tina
The phone service itself has proved as good as Verizon. No complaints there.
do not choose red pocket
i paid 450 bucks a year for 100G plan. but when they changed this plan to 50G, my old plan suddenly shut down, there is no signal anymore. when i asked help, the CS of red pocket told me everything in good condition. but i can not get any signal. it is too much bad experience. they did not resolve the issue.
Just recently started using Red Pocket
And so far It's been nothing but excellent for the price! I get a strong signal, HD streaming, and reliable hotspot. Customer chat has given me no issues.
A good company
Red Pocket doesn't have the most user friendly website out there, but it's worth using to get some fantastic phone service. The service works really good in my neck of the woods. It also has some of the best prices!
It was good until it wasn't.
When I got Red Pocket a few months ago, the service was pretty good. I was able to get sufficient speeds and call quality was good. But then the quality of the network dropped to the point service was only intermittenly working. I couldn't get help for this issue, so I just gave up and switched to US Mobile.
No issues with Red Pocket
Gave Red Pocket a try and I had such a pleasant experience I bought the yearly plan. The only problem I had (the reason I removed a star) was the wait to get a customer support specialist: a little over an hour. Despite that they were able to walk me through the problem.
Saving a lot of money by switching!
AT&T's costs have gone through the roof over the past few years so I switched to Red Pocket a couple months ago. There isn't a noticeable difference in call and signal quality and I'm saving over $100 per month!
Customer service = so good!
When I switched to Red Pocket, I had problems with porting my number. When I contacted customer service, I was able to reach them with litte wait time. They were also very helpful.
Good cell phone provider
Their plans are reasonably priced. Has good coverage for my cell phone and the data speeds are fast enough for me to use Facebook and YouTube.
Highly recommended
I can't recommend anything other than Red Pocket... there service helps people save a lot of money....
---
Red Pocket Mobile Q&As
What is Red Pocket Mobile?
Red Pocket Mobile is a low-cost carrier that offers prepaid cell phone plans that could save you up to $600 a year. Also known as Mobile Virtual Network Operators, they operate on the main US networks.
What network does Red Pocket Mobile use?
Red Pocket Mobile is powered by all three major networks; AT&T, T-Mobile, and Verizon.
Does Red Pocket Mobile have good coverage?
Operating on the three main networks, with Red Pocket you can choose the best network for coverage in your area.
Does Red Pocket Mobile have 5G?
Yes, you can access 5G at no extra cost with a 5G compatible device.
How good is Red Pocket Mobile?
If you don't need a lot of data, Red Pocket offers great deals.
Where can I buy Red Pocket Mobile SIM card?
You can easily pick your Red Pocket Mobile SIM card plan online.
What phones are compatible with Red Pocket Mobile?
Most unlocked phones, both CDMA and GSM, are compatible with Red Pocket Mobile.
Is Red Pocket Mobile GSM or CDMA?
Red Pocket Mobile operates on both the CDMA and GSM networks.
How much is Red Pocket Mobile?
Plans range from around $10 up to $50 a month.
Is Red Pocket Mobile worth it?
If you're looking for a budget-friendly cell phone plan, with the same great coverage you're used to, Red Pocket Mobile's plans could be worth checking ou. Especially if you're looking for a family plan.
---
About Red Pocket Mobile
| | |
| --- | --- |
| Founded | 2006 |
| Headquarters | 2060-D Avenida De Los Arboles Ste 288 Thousand Oaks, CA 91362-1376 |
| Employees | 51-200 |