Xfinity Mobile reviews: 124 customer service reviews
Xfinity Mobile customer reviews & complaints in 2023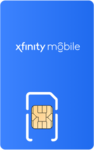 Customer Reviews
1.8
124 Xfinity Mobile reviews
Is Xfinity Mobile good?
Xfinity Mobile has an average rating of 1.8 stars from 124 reviews, indicating most customers are dissatisfied with this carrier. Xfinity Mobile ranks 22nd out of 28 cell phone carriers reviewed on MoneySavingPro.
If I could give 0 stars I would
If I could give 0 stars I would. Transferring to Xfinity Mobile has been the worst experience I've had ever. It started off with pleasantries when the sales rep Adonis sold is kn the idea that we could transfer our 4 lines from Verizon to Xfinity Mobile and cut our monthly costs. He even said because we were bringing Apple devices over that were relatively new, we qualified for $200 per line in gift cards. Sounds great right?! I thought so too. Then everything went down hill. We had the most… difficult time transferring our phone numbers over. My husband particularly could not seem to transfer his number. It took over a week to successfully transfer 3 of the 4 numbers. I called and spoke with call rep Frank for 1hr. He said my husband was going to need a new number since they were having an issue porting over his old number. Frank said he was going to send a link to provide instructions on how to complete the phone activation. The link never came through but we were advised it may "take some time". Frank also said we were given false information regarding the gift cards by Adonis. Frank I call Xfinity Mobile again and this time spoke to David who said "you are only allowed to have 3 lines". I was stunned by this news because no one ever said anything of the sort in the past. When I asked David why weren't we told this information before hand he said "the sales person probably lied to you to get the sale". He said it as if it's common practice. How is this even allowed?! I asked to be transferred to a manager and was told "that's a problem because I can't transfer you to a manager". I was told to call 215-286-1700 to escalate my concerns. Then David goes on to tell me my husband needs to change his number yet again after they just issued him a new number. At this point I am so disturbed and turned off by the customer service and disorganized nature of Xfinity Mobile. As soon as this billing cycle is done I am leaving
This company stinks.
Said i could port up to 10 lines. But then found it was capped at 6, after many calls they admitted I didn't have enough secondary services (like internet and cable tv) to qualify. I needed more lines so I ported out to another company but the porting was a nightmare. Their online porting PIN service did not work, ever! Had to argue on the phone and finally they gave it. Then the porting activity should only take 15 minutes, but it took over 12 hours!
Awful!
Signed up for 5 lines a year ago, and have a consistent problem with ALL 5! I was given incorrect pricing. By right, the company should honor what was told to the customer. On another occasion, they billed me without permission. It took 2 billing cycles, and 2 long phone calles to correct. And to this day, our service says "no mobile data" almost daily, and nobody can tell us why. We already dropped one line, because of this, and another company said if the phone was coming from… Xfinity, she would have problems transferring it over. I feel so stuck, and frustrated
The mobile service really stinks.
Well they tricked me when I thought they said that they put insurance on my phone okay and the port is now messed up I call up XFINITY mobile. They said that the mobile part the Motorola g pure was under warranty but I had no insurance on my phone so they give me the Motorola number to call I mean why bother to call him if they're gone not going to fix the issues in the first place weasel their way into our wallets to sell us products that fail and don't work half the time anyway. And …yet when once it does fail they do nothing about it they say you have to pay to get it fixed yeah customer service is lousy including Xfinity mobile they suck!
Customer service is a joke!
I spent over 4 hours on the phone in 4 seperate calls just to get one phone moved over from Tmobile. Unbelievable amount of confusion. Got it working after the third or fourth call, then, two days later it stopped working. Another hour on the phone. Then they offered me a $15 savings for my troubles. Stay away!
Terrible customer service. Shut off my phone!
I needed assistance and got indistigishable speaking lady. Ask for manager and she shut my phone off. All because I wanted to change my bill date.
Rob C came to my home right away and fixed my phones. He was super nice, and professional.. he explained everything to me so l could understand it. He was the best!
Absolutely horrible!
Do yourself a favor and don't switch! Not worth the savings. Horrible customer service and "tech support". Nobody has a clue how to fix it. Was on hold for 3 hours for a supervisor. Nightmare!
Terrible Company
Have had Xfinity mobile for over 2 years. Every single time I have upgraded a phone, all ordered through Xfinity, there has been issues that has taken hours of frustration with customer service to get corrected. They have double charged me for lines and lied to the BBB when I filed a complaint, stating they tried calling me several times but couldn't reach me. I was answering spam calls to make sure there was no way I missed their call, calls I am positive they never made. Kimberly F. w…ho is with "Executive Relations" is the one who has constantly lied and been about as unhelpful as humanly possible. Will be canceling the mobile plan along with my cable and internet very soon once I get everything sorted out.
Horrible customer service
Paid off phone a week ago and tried to switch carriers. Phone is still locked and will be for 3 more days. Can't use my phone!!!! Beyond upset!
Customer service SUCKS.
This company could be #1, but their customer service SUCKS. When you reach polite, they cannot understand what your'e talking about. Please FIX CUSTOMER SERVICE.
A nightmare company
Xfinity mobile sales rep lied and mislead me and when i tried to resolve things, i found out too late thier crazy rules and terrible customer service. If you are even able to get a live rep to speak to, you will get several different stories, transfered all over the place with super long holds, and the corporation will never be held accountable for ripping people off and lying. That was only part of my experiences (as i see it is also others experiences) and it got so bad that i am still paying …for an expensive phone that i tried to have the screen fixed abd they would not allow me to take it to thier xfinity stores to have it fixed and tgey wouldnt even allow me to return it to them after they shut off my service, even when the reps lied and told me i could go to any xfinity store to have any repairs done (i told them i would have paid for the repair) or to even return the phone. Also, they will not allow you to have an insurance plan for the phone after a certain period, who does that? Xfinity does! Rules are made to entrap thier customers and price gouge so you end up paying more than if you kept your original carrier. I was tricked into bundling with thier internet. Please do yourself a favor and do not allow xfinity mobile to entrap you with thier glittery promos and please don't fall for thier sales pitches. I regret that i ever went through Comcast Xfinity and from now on will avoid anything associated with thier name attached, including arenas.
AVOID!!!
They are horrible! Service is deplorable, don't dare try travel OUS with them, it's pointless. You can get a day pass but the service will still suck. When you call for help the make you verify the last four of the credit card on file, heaven forbid you don't have the number. If you end up without unlimited data - your bill will skyrocket and internet speed will still suck. What can I say, there was really nothing positive. They are cheaper but it's for a reason, I wouldn't even pay $1…0 a month for them, never again!!!
Do your research. This company is Really BAD!!!
I switched from Verizon to Xfinity and my apps to do my banking didn't work! They said it was my banks fault. After hours of wasted time I switched back to Verizon. Xfinity wont let go still and i wont have a phone for up to 3 days. Just avoid them!!!
Worst customer service e very.
I have a billing problem I have been trying to get resolved for several months. I have spent more time on the phone with them for hours. My next call is the better business bureau.
Network service is horrible.
I switched to Xfinity 2 years ago, worst decision I've made. The mobile data doesn't work everywhere, especially at my home. I have to strongly rely on wifi to search the web. The customer service is horrible too. Save yourself the hassle and go somewhere else.
Terrible
In the city of Boston the service is terrible, customer service is even worse. Transferred back to VZW wasn't worth the savings l.
Worst mobile service to use traveling to AFRICA
If there was 0 star, I would give it to Xfinity Mobile. I was charged $1,015.69, I travelled to Kenya and tried to use my phone internet but it wasn't working at all. It kept saying no internet. I called a representative and they help me turn on the data roaming but X finity mobile internet was still not working. I gave up and bought a simcard line in Kenya called safari com and used it for my stay there. When I travelled back to the US, I realized that for the month of May they had charge…d me $1,015.69 dollars for internet use. Internet that was not working. After I called and let them no I was having a problem with the internet connection. I have called them more than 7 times spoken to representative they kept saying that they have put in a case. I have been on a phone call which then for hours and yet nothing has happened. The last time I called they said they are listening to the phone recordings and would call me in 1 hour. I have been waiting for that call for a month. The worst mobile service ever. I regret leaving T-mobile. If you ever want to travel to Africa and want to use your mobile service PLEASE PLEASE don"t use Xfinity Mobile. You will regret, I mean how is it possible to spend over $1000 in a month on internet that was not working.
The worst mobile service.
The worst mobile service. I wish i found this site before entering a contract with them. Phone never works. I keep calling them from hubbys phone, i have to turn on my data to send messages that are attachments. Cant make calls or send sms. Changed sim cards ,3 times. Restart phone constantly. They blame the phone that they gave me amd want me to deal with lg.
Xfinity is the company with the poorest instal
my installation was scheduled for June 25 they moved it without notifying me to July 1 then they changed it to July 7 then to July 12 my installation was scheduled for June 25 they moved it without notifying me to July 1 then they changed it to July 7 then to July 12
---
Xfinity Mobile guides
About Xfinity Mobile
| | |
| --- | --- |
| Founded | 2017 |
| Headquarters | One Comcast Center, Philadelphia, PA 19103 |
| Employees | 10,001 |
| Customer service | (888) 936-4968 |
Best cell phone carriers in 2023
Best Xfinity Mobile alternatives
Calculate Your Savings
How much could you save by switching carrier?